It would be difficult to stick to the Budget numbers unless the departments are reined in their expenditure plans.
Subhomoy Bhattacharjee reports.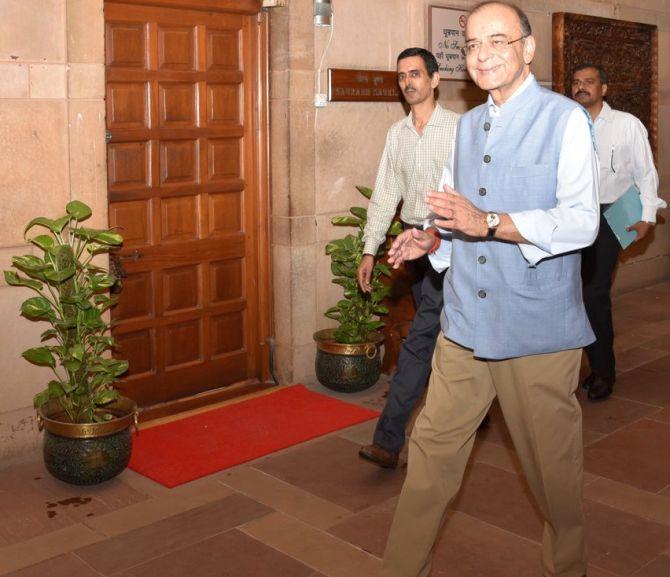 To stick to the fiscal deficit numbers for financial year 2018-2019, the government plans to tighten its belt again.
The finance ministry is expected to soon issue an expenditure advisory that would crimp all spending by ministries in the last few months of this year.
The announcement had got delayed as Finance Minister Arun Jaitley underwent a kidney transplant and was out of action for a long time.
Given the sensitivity of the subject, the expenditure department wanted the advisory to be sent out once he was back in the saddle.
Since 2015, these instructions have not gone out from North Block.
One of the key components of the relook at expenditure is cutting down on reborn centrally-sponsored schemes.
Despite the vigorous cutting down of these programmes undertaken since 2017, government managers are worried that some have made it back into the expenditure plans of the departments.
Meanwhile, the department has already begun to return plans by social sector ministries to release money for projects that have not been rolled out as yet.
The finance ministry has to make space within the current spending to make room for additional expenditure on Ayushmaan Bharat from the ministry of health, expected to cost an additional Rs 20 billion in this fiscal year.
The additional allowances for rural health care workers (Asha and Anganwadi workers), approved by the Union Cabinet recently, will need another Rs 30 billion.
The proposal from the women and child development ministry suggested to double the bill, but was shot down.
There are further programmes on the anvil like one for an expanded child protection programme that the WCD ministry wants to launch.
The finance ministry has already nixed suggestions from departments to launch additional publicity materials for the flagship programmes of the government.
On the receipts side, the calendar for government borrowing in the second half of the year has already been released.
The space for additional revenue is quite limited beyond these. The officers reckon it would be difficult to stick to the Budget numbers unless the departments are reined in their expenditure plans.