Cricket still leads when it comes to sponsorship, but other sports are bridging the gap at a fast clip, says Urvi Malvania.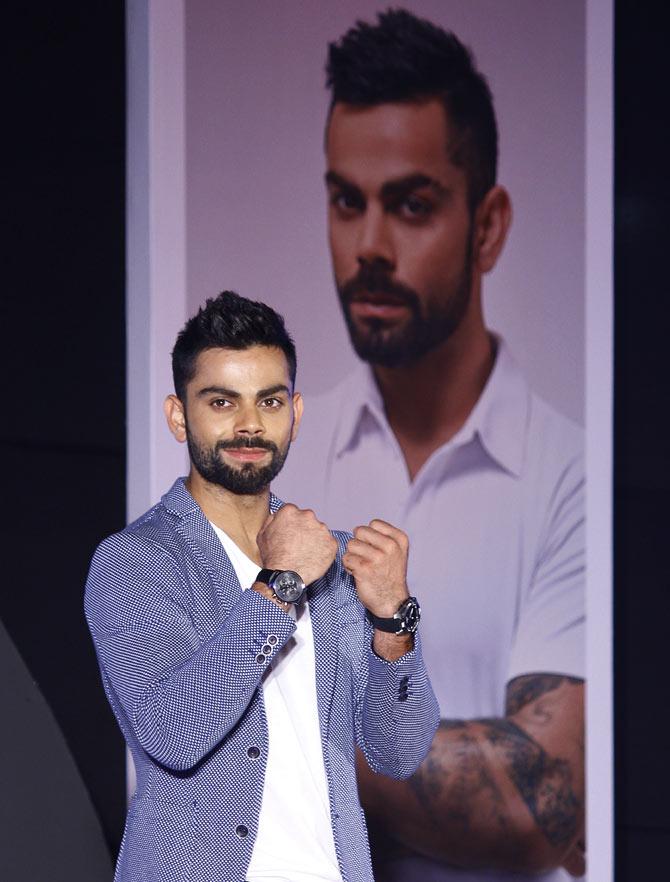 IMAGE:
Virat Kohli, seen here promoting TISSOT watches, is the king among endorsers. Photograph: Hitesh Harisinghani/Rediff.com
Despite demonetisation, trouble at the Board for Cricket Control of India, uncertainty over new franchises at the Indian Premier League and teething problems with the new football and tennis leagues, sports sponsorships saw a massive 19 per cent bump in 2016 to touch ₹6,400 crore.
While cricket (in all forms) was the top performer, kabaddi saw a big surge in 2016 by bringing in three times the amount it did in sponsorships in 2015.
The fourth edition of Sporting Nation in the making (ESP Properties, GroupM and SportzPower), released on March 23, shows that while cricket continues to bag the big bucks, its contribution to the total ad pie has dropped 3 per cent and its sponsorships grew by just 6 per cent in 2016 over 2015, from ₹264 crore to ₹279 crore.
But non-cricket endorsements grew 84 per cent over the same period, from ₹42 crore to ₹77 crore, indicating the growing popularity of other sports and emergence of ambassadors from outside the world of cricket.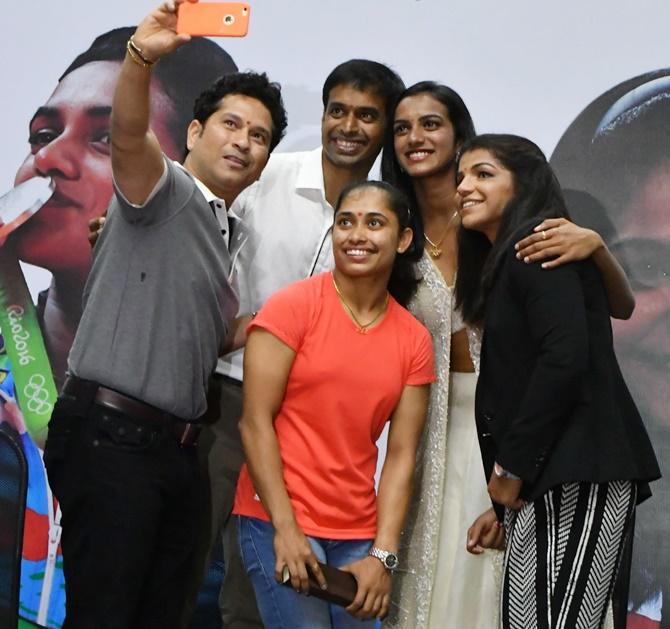 IMAGE: Sachin Tendulkar clicks a selfie with P Gopichand, Dipa Karmakar, P V Sindhu and Sakshi Malik. Photograph: SnapsIndia.
Indian captain Virat Kohli is still king among endorsers though, while leading the non-cricket pack are Olympians PV Sindhu and Sakshi Malik.
Sindhu signed a three-year deal with Baseline in September last year. The deal is reported to be worth up to ₹50 crore after factoring in performance bonuses, making it the highest ever for any non-cricket player.
By 2016-end Sindhu had signed six brands with a cumulative endorsement value of ₹7.5 crore.
However, non-cricket stars still have a long way to go before they can close the gap with cricket stars in terms of brands and endorsement fees.
Kohli is part of the ₹100-crore-brand league that had veterans M S Dhoni and Sachin Tendulkar on the honour list in the past.
He ended 2016 with 20 brands with a collective endorsement value of ₹120 crore, which is more than what the other two pulled in together.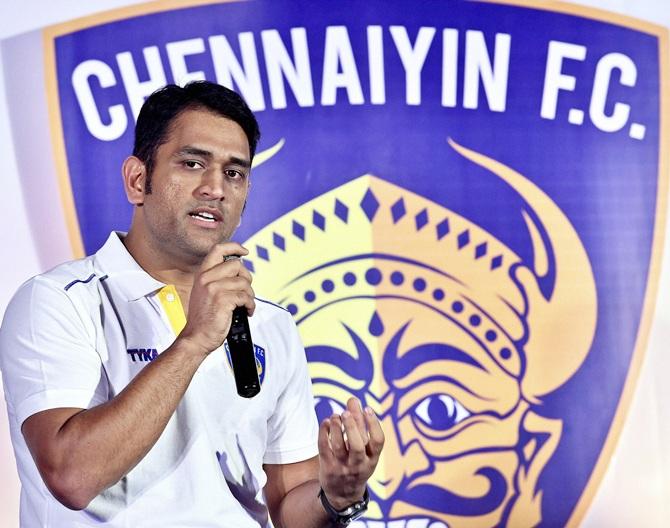 IMAGE: Dhoni's endorsement value was Rs 65 crores. Photograph: PTI Photo.
Dhoni, from 15 brands in 2015, dropped to 12 in 2016 and his endorsement value was ₹65 crore.
Tendulkar is down to eight from 12 brands in 2015 and his deals are estimated at ₹45 crore.
Among cricketers to watch out for, the report says, is R Ashwin who could turn in a winning performance in 2017.
International sportspersons continued to hold Indian brands in thrall.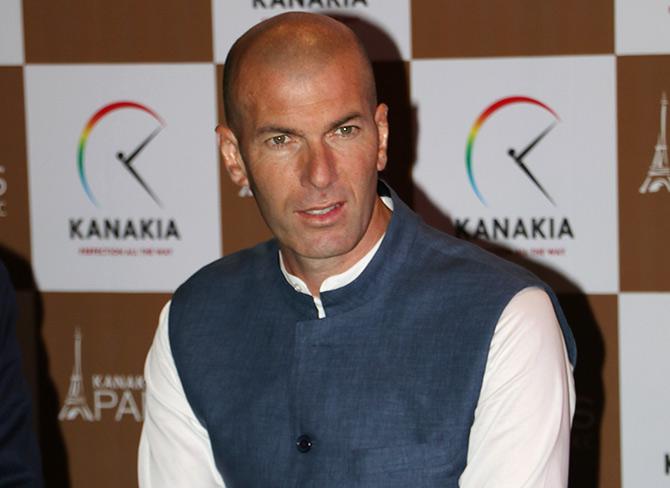 IMAGE:
French football legend Zinedine Zidane endorses realty firm Kanakia Spaces. Photograph: Hitesh Harisinghani/Rediff.com
Realty firm, Kanakia Spaces signed French football legend Zinedine Zidane in 2016 and the year saw international athletes' endorsements jump to ₹120 crore from ₹110 crore in 2015.
However, his fee of ₹10 crore a year, is much less than the ₹60 crore a year, two-year deal Tata Motors signed with Lionel Messi in 2015.
Sports sponsorships accounted for 11.5 per cent of the Indian adex (GroupM's This Year, Next Year 2016).
While media spends contributed to the largest chunk of the pie, on-ground and team sponsorships and franchise fees also saw robust growth.
Vinit Karnik, business head, ESP Properties says, "The report insights are key to devising more refined viewer engagement." It is also an indicator of a maturing sports market in the country.