As IT midcap stocks ride high, it has created speculation around a potential bubble with analysts picking the midcaps' client concentration as the biggest concern area.
Romita Majumdar reports.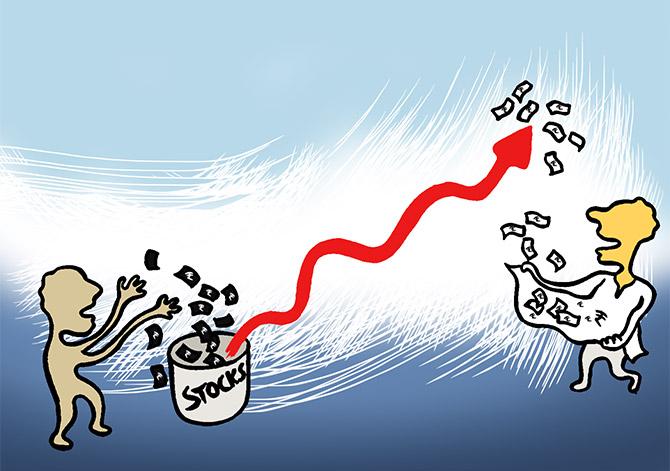 Illustration: Dominic Xavier/Rediff.com
The dependency of the midsize Indian IT services companies on top clients for revenues can be their biggest vulnerability even as they continue to show steady growth and attract investor interest due to their differentiated service offerings.
On an average, top 10 clients account for about 50 per cent of the revenues at midcaps firms, unlike their large-cap peers who are dependent on their top 10 clients for about a fifth of their revenues.
As IT midcap stocks ride high, it has also created a lot of speculation around a potential bubble with analysts picking the midcaps' client concentration as the biggest concern area.
"IT mid-caps have borne the brunt of changes in top 10 to 20 client concentration in the past. That said, Larsen & Toubro Infotech and Mindtree have shown good growth in digital services," says Urmil Shah, AVP and research analyst, IDBI Securities.
Given that, in the past, midcap IT companies have suffered due to changes in client requirements, analysts have been exercising caution.
According to Shah, the reason these companies are being preferred by the investors is due to their differentiated business model like engineering, and research and development services as well as a strong line of digital services.
LTI is also preferred given its sector outperformance and strong growth in digital solutions which accounts for 33 per cent of its overall revenues.
NIIT Technologies has been in the news following a management rejig as well as a stronger performance over the past few quarters, especially on the travel and transportation services.
The company saw some revenue decline in Q2 last year due to a large travel client scaling down some of their requirements.
"Cyient has been a strong pick for some time due to its niche offering as of now. Particularly for their aerospace and communications business segments, the outlook has been quite significant," said Harit Shah, research analyst at Reliance Securities.
He added that Sonata Software remains another watched company due to their focus on software platforms in retail and travel.
"Top client concentration and their contribution to total revenue has been a major risk for midcap IT companies," says another analyst who did not wish to be identified.
"Also," the analyst adds, "given that a lot of their revenues stem from onsite operations and in the current political scenario it might not be the most sustainable option."
On the other hand, these businesses do tend to have a smaller scale that allows them to implement technology changes much faster than their larger peers, note some analysts.
Overall, when it comes to midcaps analysts are leaning towards niche products and solutions as a metric to identify players.
While they caution against blind faith, there is a need for midcaps to diversify their client portfolio to maintain the upward graph.