The problem, say experts, is not so much the use of plastic as the lack of effort to recycle and reuse it.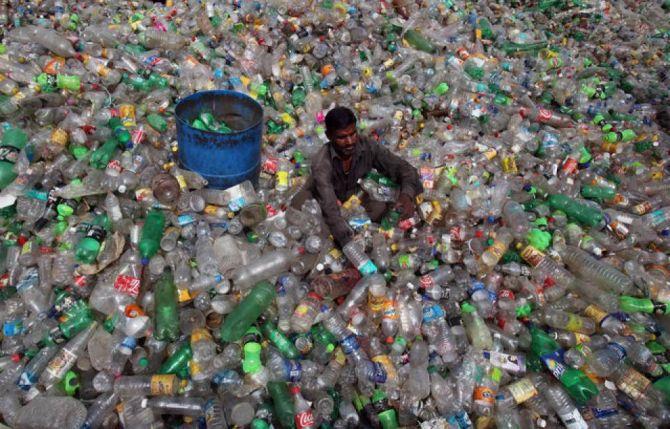 Nine thousand tonnes. That's how much plastic waste India generates every year.
Unfortunately, most of it is dumped in landfills and drains, choking the canals and rivers, in the absence of proper recycling facility.
Several states have responded to this problem by pledging to ban single-use plastic altogether.
After Maharashtra, Gujarat and Delhi, Tamil Nadu is the latest to impose a ban on certain types of plastic.
Nineteen states, including Jammu & Kashmir, Sikkim, Haryana and Rajasthan, have announced some kind of ban or another on plastic products so far.
In Tamil Nadu, all types of non-degradable plastic, mostly items such as plastic plates, sheets, cups, water bottles, sachets, straws, bags, and the like, will no longer be available from next year when the ban goes into effect.
So how does the ban affect those who make plastic, the people who use plastic, and more importantly, the environment?
Unarguably, the ban is a good idea as plastic has environmental consequences.
Yet, the problem, say experts, is not so much the use of plastic as the lack of effort to recycle and reuse it.
The average per capita plastic consumption in India at 11 kg is much lower than the global average of 28 kg, but only 60 per cent of it is currently recycled.
Delhi-based non-profit policy research organisation The Energy and Resources Institute says the cause of concern is not the amount of plastic that is discarded -- it still comprises just 8 per cent of the total solid waste -- but the lack of an organised mechanism to deal with the plastic waste generated every day.
Banning plastic is an easy solution but one that is hard to implement.
Many states have already thrown up their hands in the face of protests.
The Kerala government recently informed the state high court that banning plastic carry bags may not be practical without providing alternatives that are easily available to all.
In Maharashtra, where the ban kicked off in the first week of July, retailers and wholesalers were exempted from the ambit of it after they went on a strike to protest the move.
What's more, many argue that alternatives are less environment friendly than plastic over their lifecycle.
For instance, they say, an exponential increase in the use of glass will have a downside in terms of increased need for sand mining from river beds.
On the other hand, more paper bags will have consequences for the already depleting forest reserves.
There are financial costs to contend with as well. A report by industry body Federation of Indian Chambers of Commerce and Industry released last year estimates the plastic processing industry at around Rs 100,000 crore and expects it to grow at a compound annual growth rate of 10 per cent for the next 10 years.
A ban on plastic bags could staunch that growth, and directly impact around 20 lakh jobs.
But that's not all. It could have a spillover effect on small retailers and kiraana shop owners (those who sell a large proportion of low-priced FMCG products that are available in sachets and plastic packaging), ragpickers (around 30 per cent of whom depend on sales of plastic bottles) and the agricultural sector (as demand for farm produce falls with the fortunes of the food processing industry), said the report by Strategy (a member of PwC network) and FICCI.
"The low price point products will disappear from the market, cost to consumer would increase up to three times depending on categories and alternatives and hygiene and food safety issues would emerge due to unpackaged food," the report added.
A study by the National Centre for Policy Analysis in the US corroborates these findings.
It shows that plastic bag bans have a negative effect on retail sales in areas where bans are in place, as it encourages shoppers to take their business to places where the ban is not in effect.
The report studied Seattle's plastic bag ban and said it caused store owners to spend 40-200 per cent more on alternative carryout bags, directly affecting their bottom lines.
Caught between plastic's environmental ills and economic costs, finding ways to reuse it has become urgent for many.
One of the areas where plastic has found an afterlife is in building roads.
Rajagopalan Vasudevan, a 73-year-old professor from Madurai's Thiagarajar College of Engineering, who was awarded Padma Shri in 2018, has discovered an ingenious way to build durable roads using plastic waste.
His technology has been used to pave 20,000 km of road so far.
Some of the plastic is also getting converted into fuel. A team of researchers from the Indian Institute of Technology (Madras) has developed a solar-powered system to convert non-recyclable plastic into fuel for domestic use.
Several large FMCG players are shaping up too. They have started working towards reducing plastic dependence by trying out recyclable or energy recoverable plastic for their products.
PepsiCo, for example, is planning to pilot the first-ever 100 per cent compostable, plant-based packaging for its popular brand of snacks, Lays and Kurkure, this year.
India will be among the first countries to pilot this solution, which is bio-based, made from plant-based material and 100 per cent compostable.
At FMCG major ITC, over 99 per cent of solid waste generated is recycled.
Over the next decade, ITC is planning to make 100 per cent of its product packaging reusable, recyclable or compostable.
Nestle, on the other hand, has reduced the use of plastic by 1,500 tonnes last year, apart from installing Gasolyser in its plant that converts plastic into fuel.
Yet, none of this will make a big impact unless states and municipalities pitch in to promote recycling of plastic bags and films, say experts.
Several small steps have been taken in this direction but not enough has been done so far, they say.
In Gujarat, vending machines are being installed by the government as well as NGOs that pay Rs 1 through electronic transfer to consumers who deposit PET bottles.
And for ragpickers, special machines are being worked out that dispense cash rewards in exchange of plastic waste. The shape of things to come for plastic is indeed changing.
Photograph: Ajay Verma/Reuters