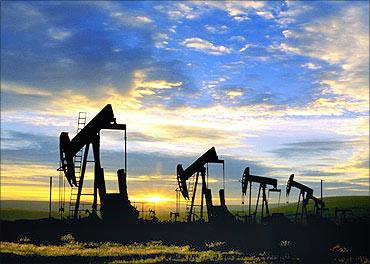 With Iran reaching an agreement on its nuclear programme, India is expected to be one of the major gainers.

The deal comes a day after Greece reached an agreement with the European Union (EU) on a bailout.

Oil prices are expected to come down further from its already low level helping the Indian government to cut down subsidy.
Besides lower oil prices, India would also gain from easier access to Iranian crude. According to senior government officials, the ministry of commerce and industry has already started working on a strategy to increase its oil imports from Iran.

Although India had referred to the sanctions as "unilateral action", it did decrease its oil imports substantially over a period of time.
Iran was until 2006 India's second-largest supplier of crude oil. But it dropped to number seven by the end of 2013-14 even though India continued to be Iran's second-largest buyer, next only to China.

Forced by sanctions, India has reduced its oil imports from Iran but it has continued to maintain good relations with the West Asian nation, which had been reeling under the US and EU sanctions for over three years now.
Since the EU and the US sanctions disallowed transactions with Iranian entities, India and Iran had put in place payments mechanism through Turkish Halk Bank and its own UCO Bank (2012).

Iran was making rupee payment to India for its purchases entirely through the UCO Bank, which was set off against what India owes to Iran primarily for crude oil. But now sanctions against Iranian banks would be lifted.
Prime Minister Narendra Modi is also expected to visit Tehran soon. Modi met with Iranian President Hassan Rouhani last week in Ufa, Russia. Both the governments will soon sign into an agreement the memorandum of understanding (MoU) on developing the Chabahar Port.
The anticipated crude fall in prices saw the stock of oil marketing companies (OMCs) rallying on the BSE.

Hindustan Petroleum Corporation scrip closed 3.29 per cent higher, BPCL 2.02 per cent and Indian Oil Corporation 3.36 per cent. There were hopes that lower crude oil prices would lead to lower under-recoveries for OMCs.
According to Amit Bhandari, fellow, energy and environment studies, Gateway House, "Now that the sanctions are lifted, it will allow Iran to freely sell petroleum. This will further push down the global prices of petroleum, which have already dropped since June 2014. During the period from 2011 to 2014, Iran has reduced its oil production by 700,000 barrels a day. But now they are expected to ramp it up."
The commerce department has also instituted a study group and is also working on ways to increase trade with Iran. It is expected to present the report on the matter soon, senior officials told Business Standard.
"Iran is central in getting access to Central Asia. PM Modi is viewing Central Asia as one of his priorities," said an official, adding the main points that were discussed during the bilateral meeting between Modi and Rouhani centered on energy and trade.
India is also planning to increase its export of basmati rice to the region. Of late, the commerce department has sent a couple of delegations to Iran to explore ways to increase rice exports to Iran.
"India must use this possibly longer window of lower energy prices to try to secure supplies and acquire oversees assets like oil and gas fields. This will help India achieve its long-term goal of buying oil at a stable price range," said Bhandari.