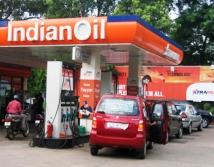 State-owned Indian Oil Corporation expects to sell share at Rs 450 a piece, well above current market levels, in the follow-on public offer planned for late January 2011, company chairman B M Bansal said on Wednesday.
"We expect the pricing to be around Rs 450 (per share)," he told reporters here. Reacting to Bansal's comment, IOC share on Wednesday soared 14.32 per cent higher at Rs 395.75 before settling at Rs 383.10 at 1430 hours.
Bansal said the FPO in which the government will divest its 10 per cent share along with the company selling an equal number of fresh shares, was likely in the 3rd or 4th week of January.
IOC has hired six banks, Merrill Lynch, Citigroup and ICICI Securities, to handle the public offer.
Morgan Stanley, SBI Capital and UBS are other banks hired by the company.
Bansal said the FPO will raise about Rs 20,000 crore-Rs 10,000 crore (Rs 200 billion-100 billion) each for the government and the company.
The company plans to use the proceeds of the sale to revive shelved petrochemical project at Paradip in Orissa and liquefied natural gas terminal at Ennore in Tamil Nadu.
The government plans to sell shares in IOC and, Oil and Natural Gas Corporation as part of its efforts to raise Rs 40,000 crore (Rs 400 billion) this fiscal to fund social and infrastructure projects and reduce its fiscal deficit to 5.5 per cent from 6.6 per cent in 2009-10. Stake sale from ONGC alone may raise Rs 14,500 crore (Rs 145 billion).
The government at present owns 74.14 per cent stake in ONGC and 78.92
per cent stake in IOC.
The plan is to first sell a 10 per cent holding (19 crore or 190 million shares) in IOC, then sell 5 per cent (10.6 crore or 106 million shares) in ONGC.
Thereafter, the government's shareholding in ONGC will fall to 69.14 per cent, while its IOC stake will come down to 64.57 per cent.
The government divestment of 10 per cent stake in IOC sale will be accompanied by an issuance of 24.2 crore (242 million) new shares by the company.
IOC plans to use proceeds of the offer in building a Rs 15,000 crore (Rs 150 billion) petrochemical plant at Orissa and Rs 8,000 crore (Rs 80 billion) LNG terminal with a capacity of 5 million tonnes and an associated 1,000 megawatt power plant in Ennore, Tamil Nadu.
According to Bansal, the oil ministry is in the process of appointing independent directors on Indian Oil Corporation and ONGC boards to meet market regulator Securities and Exchange Board of India's listing requirement.
At present, the two firms don't meet the Sebi norm of having half of their board strength made up of non-official or independent directors.