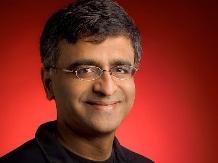 Earlier this year, Sridhar Ramaswamy was given sole charge of one of Google's most important functions -- ads and commerce.

In an email interview with Business Standard, Ramaswamy, senior vice-president (ads & commerce), talks about the company's latest venture, Google Shopping Express, a same-day grocery delivery service launched in the US.

He also shares the company's overall plans in the commerce space and its desire to work with the start-up community in India.

Edited excerpts:

Recently, you launched Google Shopping Express in the US. How big is the opportunity and what have been the challenges in executing it?

As a sector, we've made great strides to help improve the online shopping experience through the years.

With Google Shopping Express, our goal is to help make local shopping more convenient.

By working closely with some of the shoppers' favourite local merchants, we can help people easily buy what they want and get it delivered to their doorsteps quickly and affordably, in a matter of hours.

In many ways, the same-day delivery space is still in infancy; we've invested a lot of effort in ensuring we're building a service that is not only useful and delightful for shoppers but a model we can scale broadly.

It's taken us some time, as we've fine-tuned the experience for shoppers in the San Francisco Bay area -- from packaging changes to creating more efficient delivery routes.

Do you plan to launch it in India, where online grocery shopping is taking off?

We'll continue to look for ways to improve the system and are working with our retail partners to bring Shopping Express to more cities soon.

I don't have specific plans to share at this point but I'm very pleased with how things are going and hope we can bring it to many more shoppers soon.

Earlier, you had mentioned your aim was to make online commerce, on a large scale, 'as frictionless as possible', rather than just looking at launching an online marketplace. Is marketplace still an option?

Our overall goal in the commerce space is to help people find the products they're looking for online; connect them with great merchants from whom they can buy those products, and make the whole process as seamless as possible.

That vision is bigger than just having an online marketplace.

It involves everything from helping retailers optimise their websites to making mobile payments easier with Google Wallet Instant Buy and helping
them deliver products to your doorstep with Google Shopping Express.
There's still a lot we can do to help brands create great shopper experiences and make commerce frictionless; it's an area we're very focused on.
What was the user response to the Google Wallet mobile app and what is your vision for it? When will you take it to markets outside the US?
Broadly, Google Wallet is a digital wallet you can also use online, on your mobile phone, or at stores.
For instance, when you purchase an app on Google Play or buy something from a merchant's mobile app that's integrated with Google Wallet Instant Buy, you can use the payment methods stored in your Google Wallet to pay.
In the US, people can also use the Google Wallet mobile app to tap and pay in stores, store your loyalty cards, or send money to friends.
I'm pleased with the feedback we've received from users so far.
We hope to make it available to many more people around the world soon.
Earlier this year, there was speculation Google was working on accepting payments in bitcoins. Is this something you are still considering?
We're always listening to feedback from users about how we can create the best experience for them. But there's no change to our position — we have no plans regarding bitcoin.
The Indian start-up space seems to be gathering pace. There could be products/tools being built in India which global technology giants such as Google could benefit from. Are you considering partnering Indian start-ups?
It's important for companies such as Google to nurture start-ups all around the world.
We certainly want to work with the start-up community in India.
In fact, we have an initiative, in partnership with Nasscom, to build a robust start-up ecosystem in India.
It is called Nasscom 10,000 Startups.
We also have a programme for women entrepreneurs, specifically aimed at mentoring and providing tech assistance.
The programme, called Women on the Web, has enrolled about 2,000 women.
What is India's contribution to Google's revenue from advertising services? What is your outlook for it?
We don't break down revenue by country. We're pleased with the growth we see in India.
You have been actively hiring for your AdWords team in India. What is the team size and what are your hiring plans?
We don't share the details of staff headcount.
We hire across functions and business verticals, according to our needs.
Image: Sridhar Ramaswamy; Photograph, courtesy: Business Standard