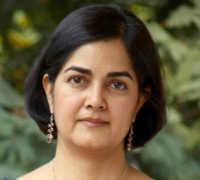 How can you have proper planning of cities and towns when the basic data is not there, says Jyoti Hosagrahar, Adjunct Associate Professor, Graduate School of Architecture, Planning and Preservation, Columbia University, New York.

Hosagrahar, who is also the Founder-Director of Sustainable Urbanism International at Columbia University, and Bangalore, India, says what India needs is not only vision, but also proper implementation of regulations and controls. Sustainable development is not just clean air and clean water, she tells Faisal Kidwai in an interview.

Here are the excerpts:

What are the major problems of urbanisation in India?

There are many ways one can look at the issues of urbanisation in India. One is the attraction of people migrating from countryside to cities is very heavily focused on the big metropolitan centres.

So one issue is the hierarchy of cities in equity, in scale, between them. It's a huge difference. On one hand you have extremely overbuilt and large urban collaborations, or metropolitan areas, which in some cases are almost as big as states simply because of their scale.

And, on the other hand, there are villages and small towns. So, you have this kind of big variants not only in scale but in opportunities, access to services, education, health, jobs, everything varies across different scales.

While, metropolitan areas have immense opportunities that cannot be compared to that of smaller towns, but towns have a lot of potential that needs to be built up.

What we need on a broader policy level is how we can make smaller towns more attractive for people to stay in, how they can be made more sustainable so that people are able to find jobs and continue their way of life.

But it is not only why the urbanisation is happening in the way it is but what are the forms it is taking and what is it resulting in the city.

There is a lot of large-scale investments in the big cities, which seems like a good thing, but the amount of regulations and controls that are being put in place to manage the growth need to be developed in that regard.

That means proper planning is lacking?

Planning is not only a question of having a vision, but how you bring people together for a shared vision and also seeing who is benefiting from which improvements and who is not benefiting and how to we make it relatively equitable across the board and what are the ways in which the issues can be addressed.

It means not only having a vision and putting it down in a nice drawing or a nice master plan but also finding ways in which the implementation can be made realistic.

Monitoring of the regulations, legal and financial structures should be in place. The stake holders some how have to be engaged and there has to be a process for engagement.

More Indians are moving to cities than ever before. What should be done to ease the burden on cities?

The government is trying to ease the burden on major cities like Delhi and Mumbai, but many times well-intentioned projects and interventions don't have the desired impact.

Often times the process is not been undertaken in the way it can have an impact.
For instance, all the legal and supportive systems are not in place to have an impact.
If you don't have the basic data, where the buildings are, where the rivers are, where the water is, where the services are required, etc, you can't do an intervention. In our case, we often don't have the basic survey data easily available.
Now there are efforts to at least compile that but there is a long way to go when you compare it with other cities in the world. Other countries have cities completely mapped out.
There's been a lot of talk about sustainable development, but not much movement. Do you think planners are now moving towards sustainable development?


There are different ways to talk about sustainability. First is only in terms of environmental sustainability where people are talking about air quality or clean water.
Secondly, there is a great deal of emphasis on energy efficiency and people feel that as long as you are living in energy-efficient buildings, etc, that itself is an answer.
So you might have a big gated complex or community with pipelines and multi-storey structures and solar panels and somehow it becomes a sustainable community.
But my definition of sustainability is much broader than that. If you follow the Rio or the Johannesburg declarations, sustainability is much broader than that and economic and social dimensions of sustainability are equally important and Unesco has been arguing for a cultural dimension of sustainability and being able to see how sustainability is locally conceptualized.
How do you take some thing that is global and make it locally applicable is the aim.
Often times we take traditional systems that are already in place and dismantle them and replace them with something which seems to be more technically advanced but then we find it is unsustainable and then we have to turn it sustainable and it becomes sort of a cycle.
So, instead of that, the approach should be why not look at it in a more integrated way so that you can understand heritage in a much broader sense, understand the ways of living as cultural landscapes, understand cities as cultural landscapes and you look at sustainability, including social, economic dimension and equity as a significant aspect then your whole approach is very different.
How do I build more roads or how do I get more cars on the roads is not necessarily the solution.
What has been the response of the government to your studies?


I have been doing the work for sometime now and I presented a report about basic infrastructure development and the government has been responsive in different places in different ways.
For instance, we have been involved with Karnataka government in looking at 14 settlements in Karnataka and trying to see how cultural heritage and environmental sustainability can be integrated with tourism while being compatible with local people and their lifestyle.
There have been many such efforts that we have been personally involved in and also at international level because I do work with Unesco.
It is easy to do something today because if we just cut a road here today we get there quickly. But once you put that road you are pulling in more traffic, the place gets destroyed, that's a different sort of way of looking at things.