'A clear shift has happened from managing demand to creating demand. The second is this industry is based on talent and that talent is mobile. Earlier we used to learn about new technologies, now it is a matter of survival.'
'People who are good and doing well, they are not bothered because the demand from them is very high.'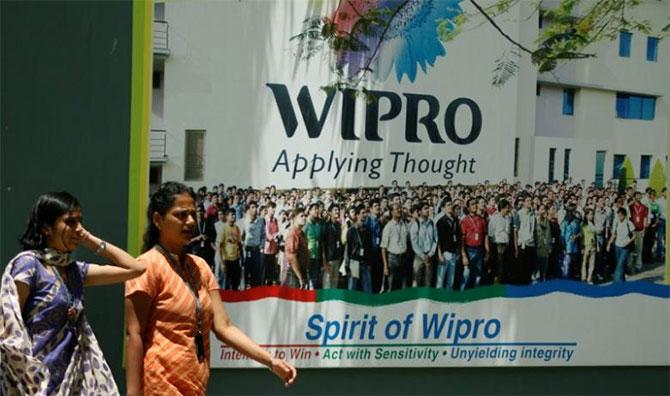 India's technology services firms are facing their worst period in a decade. The industry is facing technology and business shifts, impacting their growth and their employees.
Amidst fear of layoffs across many IT companies, Saurabh Govil, bottom left, head of Wipro's Human resources, explains who are the affected lot and why it is essential to re-skill for employees in this sector. Excerpts:
There is an increasing fear of layoffs in IT services industry. Do you believe it is real?
In the last two decades, the industry hired people and there was enough demand available. In those days, the expectation was if you do not get promoted within two years, there is something wrong with you. A lot of people did very well and grew.
The first change started when the 2008-09 economic slowdown set in. The industry has matured from 40 per cent annual growth to single-digit growth this year.
Right now, two or three key things are happening. First, a clear shift has happened from managing demand to creating demand.
The second is this industry is based on talent and that talent is mobile. Now that mobility is getting questioned across the globe and new immigration rules are being set in different countries' locations. A lot of work at the bottom of the pyramid is getting automated.
Earlier we used to learn about new technologies, now it (learning) is a matter of survival. Everything that we were doing before, hiring, training or performance appraisal, we are doing it even now, there is no change.
But, I think the parameters in which we define everything is becoming stricter. We are looking at people who could be trained, we are looking at people who have skills in new technologies.
You take last quarter, we saw the highest addition in people for the full year. Opportunities for people are lesser and hence there is more stress. That is the challenge and it is a larger industry issue.
I have so many engineering students ready to apply for BPO jobs, as they do not have a job.
Re-skilling is becoming the core of this industry now. How we train, how we recruit, manage.
It is a larger social issue, are we seeing a jobless GDP growth. That is what is getting amplified. Anybody who is good and picks up a new skill there is no challenge.
We saw the call for unionising in 2007-08? Now it seems to be coming back. Is there a challenge?
Unions come as a consequence of an economic reason. Here we are dealing with knowledge workers..they understand it is about being transparent, and fair.
You can take a tough call if you treat people with respect transparency and perceived fairness, then there would not be an issue.
We are a commercial enterprise, we have to make profit, we have to be in the market. So all that is normal. But if we do the right things the right way, I do not fear this.
Today, average attrition in the industry is nearly 15 per cent and this is voluntary. People are getting jobs, all companies are hiring, all companies are growing and in profits. We are good and we want to become better.
Then you have to drive performance hard, do things better and grow. In a scale of more than 1.7 lakh people, there will be few disgruntled people. There was a time we used to be 20-25 per cent people used to be on bench. There was no work.
Involuntary attrition is across the board or that 10-15 years of experience level?
It is more (at that level) because as people grow old the ability to change is becoming lesser. Younger people are much more amenable to change, trying out new things and willing to unlearn much faster and there are people who find it tougher or people who grew very fast when the industry was growing and suddenly they hit a glass ceiling. And they know it.
We bridge the gap.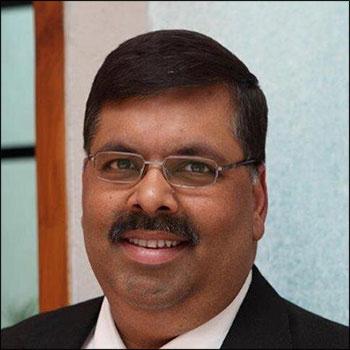 New projects are in new technology areas, and some people are told to train themselves. Some get it, some do not. Performance actions will be across.
However, we are seeing a larger number of people getting impacted in the group which you are saying. It is not easy, it is challenging for them they have families, commitment cannot move easily.
It is a more social issue and an industry phenomenon. What I tell people is that it can happen to anyone, anytime and anywhere. We will have to make sure we continue to learn and do something which is meaningful. People who are good and doing well, they are not bothered because the demand from them is very high.
One side I am also hiring people at a premium because I want those kinds of skill sets. So how do I strike a balance? Overall, we will have to see how we can manage it in long term. We are going to a lesser number of colleges.
We are hiring better quality people, Increasing our numbers from IITs. There is a clear shift. The bottom of the pyramid jobs can be automated. When we get better quality people, the readiness of people is far more when they are out of training.
A few Wipro employees say the company has initiated something called Band Inertia as part of the appraisal system. How does it work?
Some employees who have been in the same band for long and not been promoted. It is the first reflection of who you are. Some people got promoted in two years and there are people who are stuck in the same band for 7-8 years.
The individual is not expecting to grow. If you are good, you go and get another job to get promoted somewhere else. There are some people who continue to be here (in the band), they are getting impacted.
We have a programme where we are helping people through counselling face-to-face, online email, chat where we are helping people to understand this. We have also tied up with the agency to help outpace employees who are getting impacted; help you write your CV, help you do some online courses, how do you prepare yourself better for an interview. It is all about helping individuals to start fresh.
Nothing different has happened. It is with higher intensity and impact of lesser opportunities outside.
While a large chunk of mid-level employees seems to be at risk, companies look for special skills in digital technology amongst fresh graduates. What kind of skill sets do you expect employees to have?
Primarily in digital technologies such as cloud, analytics, in IoT engineering colleges are not keeping up with the pace of the industry.
For three decades, governments looked at IT services companies for mass hiring. Will it change now?
We had 10 year SEZs, tax breaks, they are sun-setting. It has become a big industry worth $150 billion, growth rates have plateaued. It is a normal process of maturing of any in the industry.
Our responsibility today is: how can we help people appreciate and embrace this change. I genuinely believe being a knowledge worker, people who deeply understand this is a reality they will make that shift. The issue is of accepting the reality and that is where we need to create awareness.