Did you know that your home insurance covers valuables in bank locker?
And this could be a good option as banks don't compensate for loss of goods in lockers in case of theft or natural calamity.
Tinesh Bhasin reports.
Illustration: Dominic Xavier/Rediff.com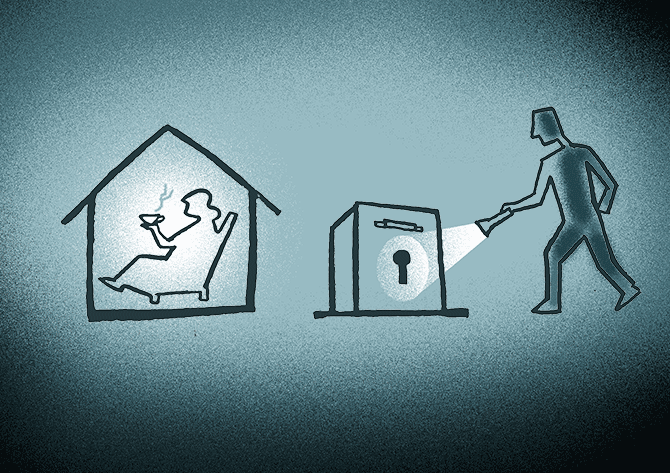 A few days ago, thieves stole valuables worth Rs 2.8 crore from the lockers of a Bank of Baroda branch. Usually, individuals keep valuables in bank lockers as they consider it safer than keeping them at home.
However, banks do not take any responsibility if valuables are stolen from the lockers.
"As banks don't know the content of lockers, they cannot take insurance to cover the customers against burglary," says Puneet Sahni, head, product development, SBI General Insurance.
Banks and their customers are like landlord and tenant. Banking customers pay for the space.
Just like a landlord is not responsible for theft inside the house of a tenant, the bank has no responsibility for the contents of a locker.
When an individual takes a bank locker, the agreement states that the bank is not responsible for loss or damage to the contents of the locker due to rain, fire, earthquake, riots, theft and other things beyond the control of the bank.
One option for an individual is to opt for an insurance policy to cover the valuables kept inside the bank locker.
Recently, a few insurers have started covering valuables inside the locker as part of their home insurance policy. But each company has its own caveats and limits.
Bajaj Allianz's My Home Insurance All Risk Policy covers precious metal jewellery (including watches), diamonds, works of art and curios.
Royal Sundaram Gruh Suraksha Plan restricts the cover to jewellery, silverware and watches.
If you have important papers or cash or any other valuables, there's no insurance available.
For valuables below a certain limit, the insurer may ask you to give a self-declaration on the market value of the contents of the bank locker.
Insurers allow self-declaration as there could be jewellery that's passed from one generation to the other and customers may not have bills for it.
In Bajaj Allianz's My Home Insurance All Risk Policy, for example, the limit is Rs 10 lakh.
If the market value of your goods crosses the threshold, you need to compulsorily get a valuation certificate from a government-approved valuer.
Most of these plans not only cover valuables inside the bank locker, but also at home and also those that an individual wears.
So, if you are travelling abroad and someone steals valuables that you are wearing, you can lodge a claim with the insurers.
The premium cost for the jewellery and valuables depends on the proposed value for insurance.
If the sum insured for jewellery and other valuables is Rs 5 lakh, the premium payable would be Rs 4,000 for cover in India and Rs 5,000 for a worldwide cover. Taxes will be extra.
When insuring your valuables, it is always better to get a valuation certificate, irrespective of the value of your belongings.
It will help in the case of claims.
"In case of contents that come with a certificate, the insured can get full value if there's a total loss," says R Suresh Nair, head-product development, Bajaj Allianz General Insurance.
If you give a self-declaration, the insurance premium would vary, depending on how the price of the gold or diamond changes every year.
In case of a valuation certificate, the premiums remain constant.
Some insurers such as Royal Sundaram cover valuables only if the customer takes insurance for contents of the house.
Compare a plan on these features before taking the cover.