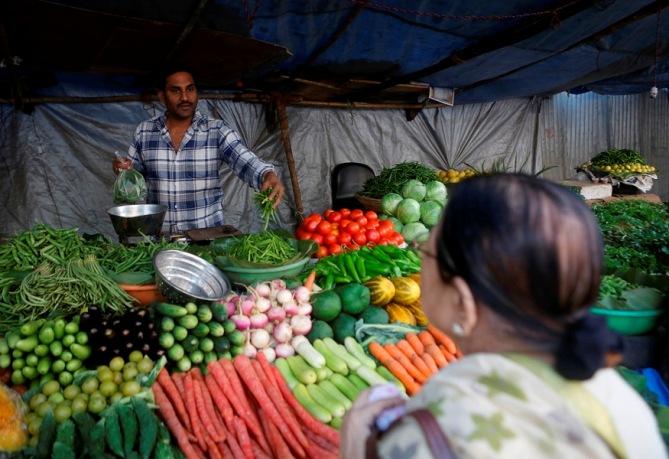 A customer speaks to a vendor while buying vegetables from a street side shop in Mumbai.

Photograph:

Danish Siddiqui/Reuters
The government's immediate focus is to bring down wastage in fruits and vegetables by stepping up food processing, Union food processing minister Harsimrat Kaur Badal said here on Thursday.

The government expects processing in fruits and vegetables to go up from the current low level of two per cent to six per cent in the next five years, Badal added.

She was in Chennai to deliver the keynote address at the National Conclave on The Indian Food Processing Sector, organised by the Indo-Amercian Chamber of Commerce.

India's food processing industry has the potential to uplift the farmer, bring down inflation, turn into a hub for skill training, and earn revenue, she noted.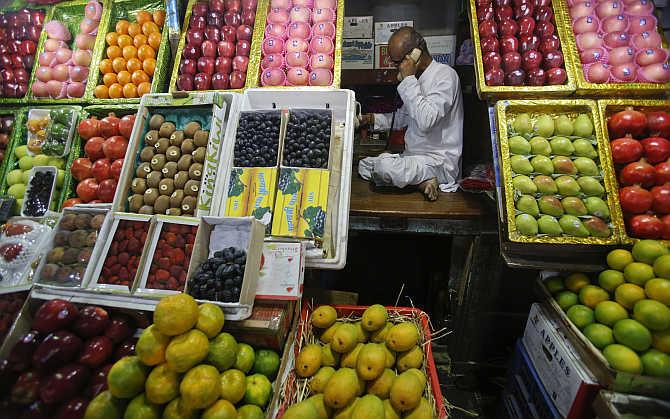 fruit vendor speaks on his phone while sitting at his fruit stall at a wholesale market in Mumbai.

Photograph:

Vivek Prakash/Reuters
According to Badal, 35 per cent of dairy and 26 per cent of marine food are processed, compared with just two per cent processing in fruits and vegetables.

"Fruits & vegetables sector is what I am going to concentrate in the coming years, because I think that is a huge potential as well as challenge," she noted.

Bringing down food wastage and inflation is a priority for the Centre, she said, adding the food processing sector should address the demand in the country and grow in exports.

The US is one of the major destinations for the sector.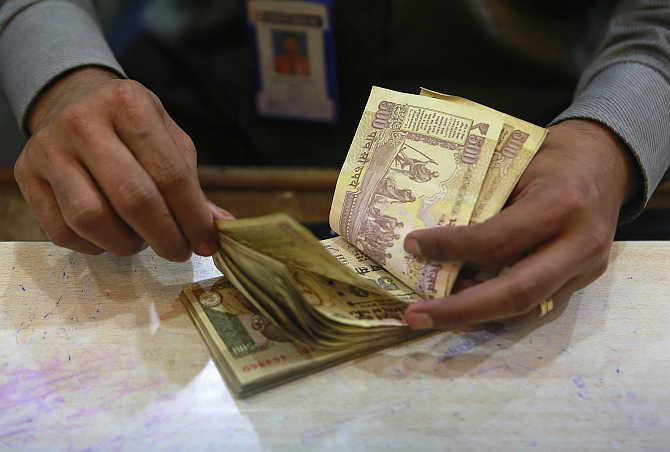 A banker counts rupee notes. Photograph: Reuters
According to a study by Central Institute of Post Harvest Engineering and Technology, Punjab, every year, 18 per cent of fruits and vegetables worth Rs 44,000 crore (Rs 440 billion) are wasted.

Badal said the figures are for 2009-10 and those would have doubled by now.

In order to buttress her point, the minister said the quantum of India's food wastage is equal to the total food consumption of the UK.

"My ministry is dedicated to ensuring that in the coming years, the wastage is turned into processed food so that the farmer can get a better price and he does not have to throw away his yield.

"I see the processing industry being like a catalyst," she added.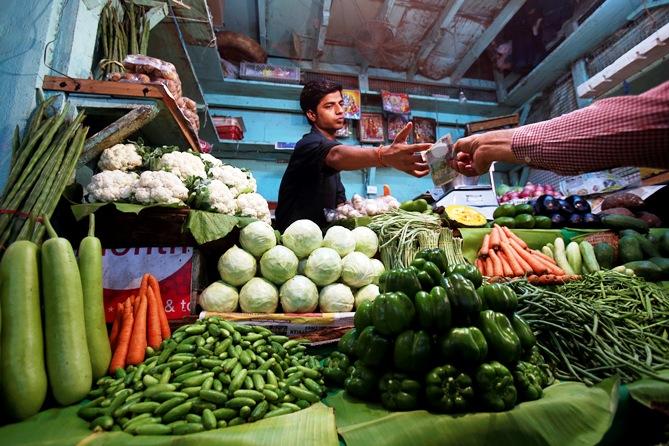 A vendor accepts money from a customer at his vegetable stall at a wholesale fruit and vegetable market in Mumbai. Photograph: Vivek Prakash/Reuters
There is a need to process food when it is surplus and supply it back to the market at a reasonable price.

This will ensure there is no inflation in perishable products such as onion and tomato.

She added the food processing sector can also act as a hub for skill training where even illiterate people can be trained, creating a huge employment opportunity.

The Budget 2013-14 had allocated Rs 2,000 crore (Rs 20 billion) to the food processing sector and Central excise duty was also brought down from 10 per cent to six per cent for the sector.

The government has launched a portal for investment in the sector and it will soon come up with a Food Map, marking availability of food products in various parts of the country.

It would be launched over the next few weeks, starting with data from eight states, she said.