"The announcement by India last year to allow duty-free export of all items into the country by Least Developed Countries (LDCs) of the South Asian Association for Regional Cooperation (SAARC) is an important market opening for Afghanistan and it is for you now to figure out what you want to sell to India," Rahul Khullar, commerce secretary, told Members of the Afghanistan Parliamentary delegation in New Delhi on Thursday.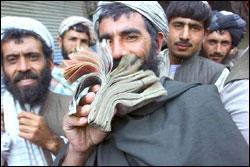 Addressing the 12-member delegation at an interaction with the Indian business community on 'Rebuilding Afghanistan: The Road Ahead', organised by FICCI's India-Afghanistan Parliamentary Forum, Khullar acknowledged that growth in exports from Afghanistan to India at 16 per cent last year was low and added that the way forward for Afghanistan was to marry human skills, technology and entrepreneurship for the betterment of its people.
He observed that Afghanistan would have to harness the economic opportunities for its people and provide gainful employment to its youth.
He mentioned that there was great potential in setting up textiles, agro-processing units and small and medium enterprises in the country.
"That is how India started 50 years ago", he said and assured the Afghan parliamentarians that there was sufficient goodwill for the Afghan people in India and the supply of capital was not a problem.
Mohd. Noor Akhbari, spokesperson of the Afghanistan parliamentary delegation, in his remarks, while assuring Indian business about the safety of their investments in his country, sought India's help in building urban transport infrastructure and agriculture, mining and health sectors.
Akbari also underlined the need for scholarships by India to Afghan students in medicine and engineering. The scholarships available today were in social sciences alone, he stated.
Vikramjit Singh Sahney, President, SAARC Chamber of Commerce and Industry, noted that Afghanistan had a strong agriculture sector which currently makes up about half of the country's national income and employed close to 70 per cent of Afghanistan's labour force.
There exists a great future in cooperation in agri-business more so for fresh fruits and vegetables and dry fruits.  The other promising sectors identified by FICCI include construction, energy, mining, logistics, telecom, education, health, and handicrafts including carpets.
He mentioned that the key constraints for bilateral economic cooperation are difficult law and order situation, the lack of trade infrastructure, non-availability of skilled man power in Afghanistan.  "We are committed to work jointly with you for improving this scenario" he declared.
Sahney urged Afghanistan to engage more actively in the SAARC and SAFTA process to enable the country to take its rightful place in the region.
The meeting was also addressed by Nanguyalai Tarzi, Afghanistan's Ambassador to India and Rajiv Kumar, Secretary General, FICCI (Federation of Indian Chambers of Commerce and Industry).
Image: An Afghan currency trader waves his money at a market in Kandahar. | Photograph: Zainal Abd Halim/Reuters