Interrupting a two-month streak of decline, outward foreign direct investment (FDI) rose sequentially to $1.85 billion in July over $1.07 billion in June, an increase of 73 per cent.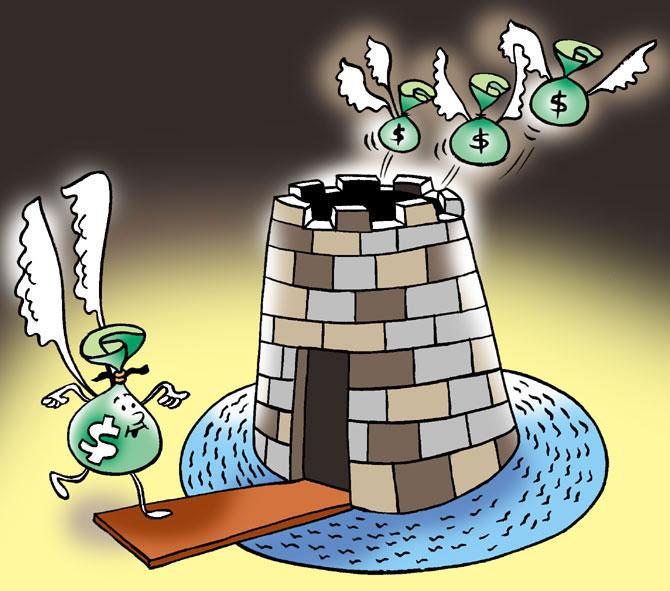 However, it was lower than the $2.18 billion in July last year, according to the Reserve Bank of India data.
Outbound FDI, expressed as financial commitment, has three components - equity, loans, and guarantees.
The commitments (under outward FDI) stood at $1.29 billion in May.
Outward FDI was $2.52 billion in April, the RBI data showed.
However, bankers said it was too early to come to a conclusion about changes in trends of decline seen through this calendar year.
The slowdown in global economic and business activities, especially in developed markets, has impacted direct investment flows, both inbound and outbound.
Showing the effect of global slowdown, net FDI in India declined sharply to $4.99 billion in the April-June quarter (Q1FY4) from $13.92 billion in the same period a year ago.
The moderation in gross inward FDI, coupled with a rise in the repatriation of investment from India, resulted in a decline in net FDI.
Madan Sabnavis, chief economist, Bank of Baroda, said while it would be premature to call the rise in outbound FDI a change in trend, Indian businesses were trying to go beyond the domestic market, where the scope for private investment had been limited.
Opportunities are opening up in developed markets and valuations are better for making investments in subsidiaries, joint ventures, and new investments.
Getting into the components of outbound FDI, the RBI data showed the equity commitment declined to $442 million in July from $488 million in June.
It was lower than the $629 million in July 2022.
The debt commitment rose to $605 million in July from $255 million in June.
However, it was over three times over the $180 million in July 2022.
The guarantees for overseas units grew to $806 million in July from $329 million in June.
However, they were much lower than the $1.37 billion in July 2022.
Key deals in July included a debt support by Tata Steel of about $361 million provided to Singapore-based ABJI Investment PTE Co Ltd, followed by Tata Chemicals' guarantees of $160 million to its Singapore-based unit Tata Chemicals International.
India Inc filed ECB intents worth $2.55 bn in July.
Indian corporates have filed application with Reserve Bank of India in July 2023 for raising $ 2.55 billion through External Commercial Borrowings (ECBs).
This includes an intent by Reliance Jio Infocomm for $1.56 billion for local sourcing of capital goods (rupee expenditure).
According to Reserve Bank of India data Reliance Jio Infocomm would raise ECB money having approximate maturity of 121 months from commercial banks.
REC Ltd intends to raise $ 500 million from the overseas branch of Indian Commercial bank.
The maturity of ECB money is 60 months and would be used for on-lending purposes.