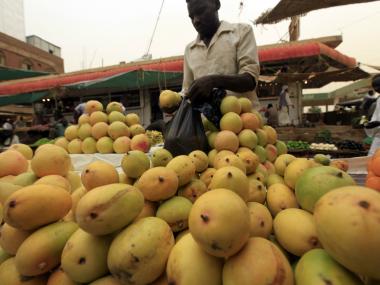 Higher pesticide residues and discovery of pest and diseases in some consignments can result in ban
Exports of mangoes from India are under severe threat due higher pesticide residues than the prescribed limit by the global standard and discovery of pest and diseases in some consignments.
The issue came to the notice of Indian authorities when the Ministry of Climate Change and Environment, United Arab Emirates, issued a warning to Indian exporters, bringing to notice the high level of pesticide residues (exceeding the permitted limits) in Indian mango.
Apart from mangoes, the UAE ministry has also found pesticide residues higher than the prescribed limit in chilli, pepper and cucumber consignments.
The UAE market contributes over 70% of India's overall annual mango exports.
The fear is that if Indian exporters do not adhere to the global guidelines of Codex standard of pesticides residues then the UAE may probably ban mango import from India, which would be a big blow for the nation.
"Yes, UAE has found pesticides residues higher than the prescribed limit in some of the mango and other commodities' exports consignments from India.
"We have already issued an advisory to the concerned exporters in this regard.
"Agricultural & Processed Food Products Export Development Authority has also started mandatory registration of all exporters of agricultural products.
"So, things would be under control soon," said a senior Apeda official.
India's mango exports have faced huge problems over the past four years due to a number of quality issues in export markets which has erased around a third of export volume during this period.
From the level of over 63,594 tonnes of fresh mango exports during the financial year 2011-12, India's shipment of this seasonal fruit has slumped to 43,191 tonnes in the financial year 2014-15.
Taking serious note of the same, UAE's ministry has asked Indian exporters to attach the pesticides residue analysis report with each consignment for the sake of health and safety of consumers.
The ministry has warned Indian authorities of stoppage of import of such commodities from India in case of repeat of pesticides' presence.
"The repeated presence of pesticides residues will lead to stoppage of export of these commodities to UAE and in turn our trade will be affected," said an advisory issued by Apeda to Indian exporters.
The Department of Agriculture, Cooperation and Farmers Welfare has advised issuance of phytosanitary certificate for fruits and vegetables exported to UAE only after production of test report on pesticide residues by any of the Apeda-recognised laboratories.
Apart from the UAE, European countries have also discovered presence of pests and diseases in some consignments of mango headed for the European Union.
"There is no major threat of ban on India's mango exports.
"We are exporting mangoes to quality conscious countries like the United States of America and Japan.
"So, Indian exporters need to be a little more cautious on quality of mangoes they export," said the official from Apeda.