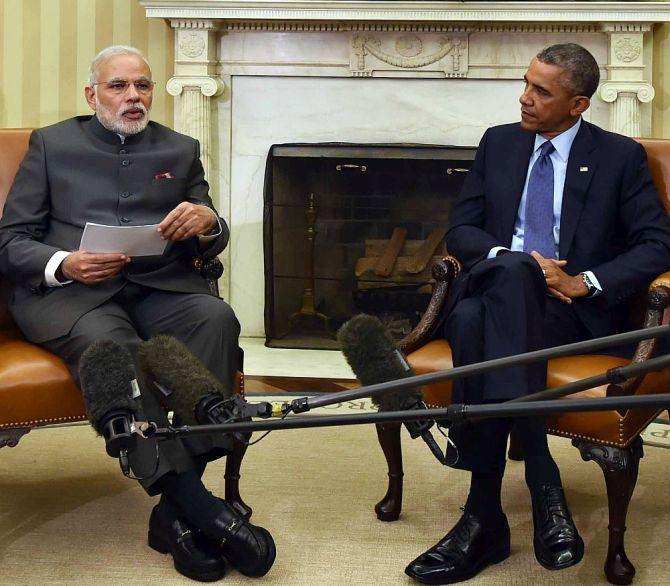 U.S. President Barack Obama smiles as he hosts a meeting with India's Prime Minister Narendra Modi in the Oval Office of the White House in Washington. Photograph: Paresh Gandhi/Rediff.com
Emphasising that India supports trade facilitation, Prime Minister Narendra Modi told US President Barack Obama that a solution must be found on its concerns over food security at the WTO.
Modi had an "open discussion" on WTO (World Trade Organisation) issue with Obama during their summit talks where a host of other topics including economy were also discussed.
"We had an open discussion on WTO issue. We support trade facilitation but a solution that takes care of our food security must be found," the Prime Minister said, adding, "I am sure that it is possible to that early".
India took a tough stand over food security issue at the WTO Geneva talks in July. The country refused to ratify WTO's Trade Facilitation Agreement (TFA), which is dear to the developed world, without any concrete movement in finding a permanent solution to its public food stock-holding issue for food security purposes.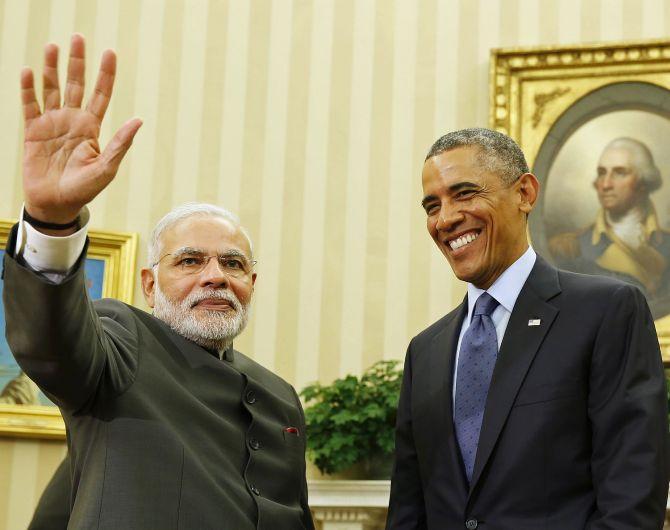 Photograph: Larry Downing/Reuters
It has asked WTO to amend the norms for calculating agri subsidies in order to procure food grains from farmers at minimum support price and sell that to poor at cheaper rates.
The current WTO norms limit the value of food subsidies at 10 per cent of the total value of food grain production. However, the support is calculated at the prices that are over two decades old.
However, the support is calculated at the prices that are over two decades old.
India is seeking a change in the base year (1986-88) for calculating the food subsidies. It wants the change to a more current base year on account of various factors such as inflation and currency movements.
There are apprehensions that once India completely implements its food security programme, it could breach the 10 per cent cap. Breach of the cap may lead to imposition of hefty penalties, if a member country drags India to the WTO.