Sabarmati railway station is the venue for the ground-breaking ceremony, be chaired by Modi and Abe, of the Rs 98,000-crore Ahmedabad-Mumbai high-speed rail project.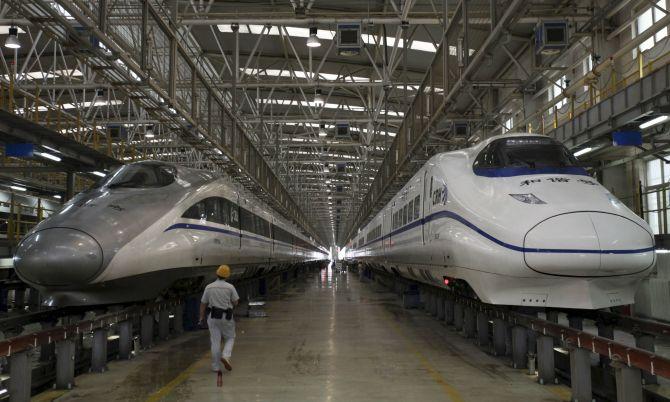 Gujarat, Prime Minister Narendra Modi's home state, is decking up to host Japanese PM Shinzo Abe.
Ahmedabad's potholed roads are getting a quick makeover while the state's bureaucrats are having new visiting cards printed in Japanese.
The grand plans are being seen reciprocation of the hospitality the Japanese PM extended to his Indian counterpart in November 2016.
Abe, who lands in Ahmedabad on Wednesday, will be treated to authentic Japanese and Gujarati food, though a tête-à-tête a la the Indian PM and Chinese President Xi Jinping, might not take place, according to government sources.
The Sabarmati railway station has also undergone a facelift.
It is the venue for the ground-breaking ceremony of the Rs 98,000-crore (Rs 980 billion) Ahmedabad-Mumbai high-speed rail project - popularly known as the bullet train - which will be chaired by Modi and Abe.
As Japan's share in foreign direct investment (FDI) inflow to Gujarat is on the upswing, the state is pulling out all stops to make the two-day visit of the Japanese PM (and Modi's friend) a memorable affair.
This would be one of the rare occasions when a head of government is skipping New Delhi during a bilateral visit.
Senior government officials said Japan's importance as a strategic economic partner of Gujarat was increasing day by day.
In fact, Japan has led FDI growth in Gujarat in recent years. FDI inflows to the state rose from $2.24 billion in FY16 to $3.36 billion in FY17, up 50 per cent.
The growth is almost four times when compared to the 2013-14 levels.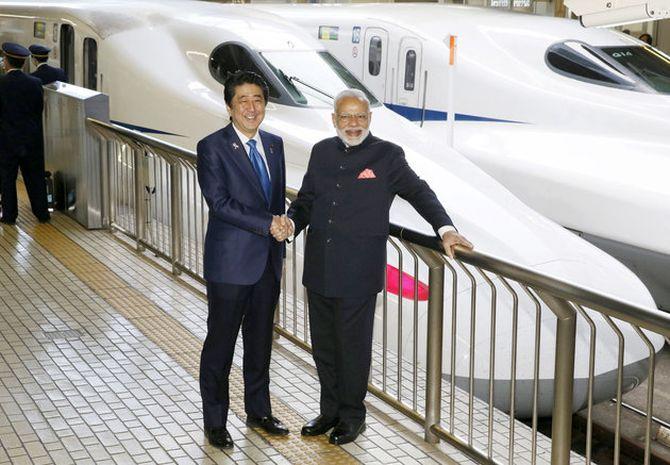 Image: Prime Minister Narendra Modi (R) and Japan's Prime Minister Shinzo Abe in front of a Shinkansen bullet train. Photograph: Kyodo/via Reuters
Suzuki's Rs 3,000-crore (Rs 30 billion) investment along with Honda Motorcycle and Scooter India's Rs 1,100 crore (Rs 10 billion) are some of the big-ticket Japanese investments in the state recently.
Japan's investment in the state is pegged at around $1 billion so far, and slated to double in the next three years or so.
It is in this backdrop that Abe and Modi would be breaking ground for the bullet train project as well as signing memoranda of understanding (MoUs) for a second Japanese industrial park at Sanand; there is one at Mandal (near Suzuki Motor Gujarat's plant).
The parks are expected to draw investment worth Rs 25,000 crore (Rs 250 billion).
Besides, Japan was one of the few countries which came out in India's support during the Doklam stand-off with China.
"The plan is to make this visit special and memorable for the Japanese PM.
We want to showcase a slice of India during his visit.
This would start right from his journey from the airport, when people would stand on either sides of the road welcoming him. Live cultural performances would be dotted across this road trip," said a senior official on condition of anonymity.
Abe would be treated to Indian cuisine as Modi plans to host him for a dinner at a heritage hotel in old Ahmedabad.
Senior state bureaucrats who had recently visited Japan were particularly moved by their hospitality. Besides Indian food, they were treated to mangoes brought in from Gujarat.
Ahmedabad's rising Japanese connection has spawned around eight restaurants which serve Japanese food in and around the city.
"JETRO (Japan External Trade Organization) is opening a major office in the city which would be on a par with their office in New Delhi to facilitate the projects here," an official said.
On the cards
Shinzo Abe will land in Ahmedabad on Wednesday afternoon and leave on Friday morning
He will visit Dandi Kutir where an exhibition on the life of the Mahatma has been organised
Modi and Abe would visit the Sabarmati Ashram on Wednesday
Bilateral talks between Indian and Japanese delegations and MoU signing at Mahatma Mandir, Gandhinagar, on Wednesday
The Japanese delegation will have dinner at a heritage hotel in Teen-Darwaza area of the old city of Ahmedabad
Bhoomi Pujan at Sabarmati railway station for high-speed rail network on Thursday
Gujarat CM Vijay Rupani to host dinner for Abe and delegation at Science City near Ahmedabad on Thursday