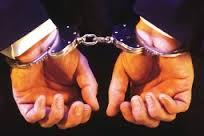 A 45-year-old Indian-origin man has been sentenced to 15 years in prison in the US for a $20-million investment fraud in which he targeted members of the Indian-Fijian community.
Vincent Singh of Elk Grove was sentenced by the US court to 15 and a half years in prison for wire fraud and false statements in bankruptcy, US Attorney Benjamin Wagner said.
"Singh convinced people who considered him a friend to invest with him.
Rather than invest the funds, he spent it on gambling and frivolous projects. Today's sentence brings a measure of justice, but it cannot right the wrongs Singh's conduct visited on his nearly 200 victims," Wagner said.
According to court documents, Singh carried out an investment fraud through an entity known as the Perfect Financial Group.
He targeted 190 members of the ethnic Indian-Fijian community for an investment fraud that grossed approximately $20 million.
Singh told investors that he was using their money for hard money lending but actually used $12 million for gambling, made $2 million in cash withdrawals, spent $880,000 on a film project and spent more than $1 million on other business ventures.
He also used millions of dollars of investor money to pay early investors, which made the enterprise look successful.
The scheme collapsed, and when Singh declared bankruptcy, he failed to disclose 19 of the bank accounts that he had used in the investment fraud.