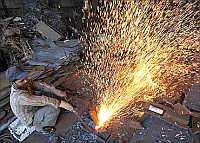 Even as manufacturing dragged down India's GDP growth to 5.4 per cent in the first half of this financial year, a global index compiled by consultancy Deloitte offers a ray of hope for factory production.
Deloitte's global index, 2013, for 38 nations, ranked India the fourth most competitive manufacturing nation, behind China, the US and Germany.
Also, the Global Manufacturing Competitiveness Index, 2013, based on a survey of CEOs, executives and other officials of 550 global manufacturing companies, ranked India as second five years down the line, predicted to be bettered only by China, which will retain its top slot.
India's strong talent pool in science, technology and research, and the 'lowest labour rates in the world', were cited by survey participants as significant competitive advantages that would positively impact the country's ability to conduct cost-efficient research and development.
Five years from now, the top three countries in terms of global competitiveness in manufacturing will all be emerging markets - China, India and Brazil. Developed countries such as the US and Germany will climb down the list, according to the survey.
This comes as a surprise, considering that manufacturing in India grew just 0.5 per cent in the first half of this financial year, against 5.1 per cent in the corresponding period of 2011-12, pulling down GDP growth to 5.4 per cent against 7.3 per cent.
However, it should be noted that the survey was released (in the US) before GDP data for the second quarter of this financial year was out in India.
In fact, in the first quarter of 2012-13, manufacturing grew more dismally at 0.2 per cent, against 7.3 per cent in April-June of 2011-12. In the second quarter, it expanded by just 0.8 per cent versus 2.9 per cent earlier.
On the reasons for such a high ranking for manufacturing in India, Timothy Hanley, global leader-manufacturing,
Deloitte, told Business Standard, "The labour pool in India is the envy of anyone else in the world."
At the same time, the survey report said India needed to reform its archaic labour laws that make any dismissal of permanent labour a daunting task. To avoid this problem, manufacturers, particularly automobile companies, have been increasingly hiring contract labour, for half the rate of permanent staff.
Wage disparity and the absence of benefits related to health and pensions is causing discontent among contract labour, leading to demand for pay parity with permanent staff, says the report.
The survey takes note of India's National Manufacturing Policy, aimed to add 100 million jobs and increase the share of manufacturing in India's GDP form 15 per cent now to 25 per cent by 2022.
"India's government is also enacting policy changes designed to improve the country's competitiveness in areas executives noted as disadvantages," the report said.
"NMP is more of a framework. What global CEOs say is that at least you have a policy, though you haven't enacted that yet. The US does not even have a policy," said Hanley.
Top executives across the globe ranked 38 nations on 10 parameters - talent-driven innovation; economic, trade, financial and tax system; cost and availability of labour and materials; supplier network; legal and regulatory systems; physical infrastructure; energy cost & policies; local market attractiveness; healthcare systems; government investment in manufacturing and innovation.
India loses out on grounds legal and regulatory framework, power supply, supplier networks. The logistics cost in India is high at 13-14 per cent of GDP, compared to seven-eight per cent in developed countries.
The report noted that high interest rates hurt Indian companies, which have higher interest payments.