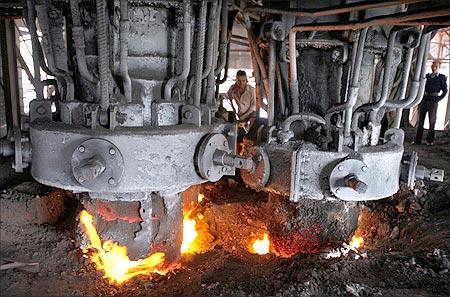 Registering one of the fastest growth rates in two years, India's manufacturing and services sectors expanded at a faster pace than China in January, says an HSBC report.
India's good show contrasts with "overall lackluster trend" seen in many other emerging markets in January.

The report, released by global financial services major HSBC on Thursday, said globally emerging markets started 2015 on a weak footing.
In January, HSBC Emerging Markets Index (EMI) fell to 51.2 from December's 51.7, which was a three-month high.
A monthly indicator, EMI is derived from Purchasing Managers' Index (PMI) surveys.
Among the four largest emerging economies, HSBC said that only India bucked the trend and recorded one of the fastest growth in January.
"Russia and Brazil fared worst in January. Russian private sector output declined at the fastest rate since May 2009, while Brazilian output fell for the ninth time in ten months.
"Chinese growth slowed for the fourth time in five months. India bucked the overall lacklustre trend, registering one of the fastest rates of expansion in two years," it noted.
India's EMI rose to 53.3 in January from 52.9 in the previous month while the same stood at 49.6 in January 2014.
"The overall slowdown was driven by the weakest expansion in services activity in eight months. In contrast, manufacturing output growth picked up to the fastest since August," the survey said.
In terms of manufacturing activities, HSBC said that data signalled sustained growth of India's manufacturing economy at the start of 2015, with output and new orders rising simultaneously for the fifteenth consecutive month.
"Lower prices paid for metals, chemicals, plastics and energy led to the weakest overall rise in input costs in nearly six years," it added.
Meanwhile, the report said the outlook for global emerging markets remained relatively weak in January.
The HSBC Emerging Markets Future Output Index – that tracks firms' expectations for activity in 12-month time -- rose further from November's record low, but it was still the third lowest to date.
"Russian sentiment recovered slightly from December's record low, while Brazil saw a marked weakening in output expectations. Chinese and Indian sentiment picked up to four- and three-month highs respectively," it said.