The bulk of the incremental profits will come from oil & gas and automobile sectors.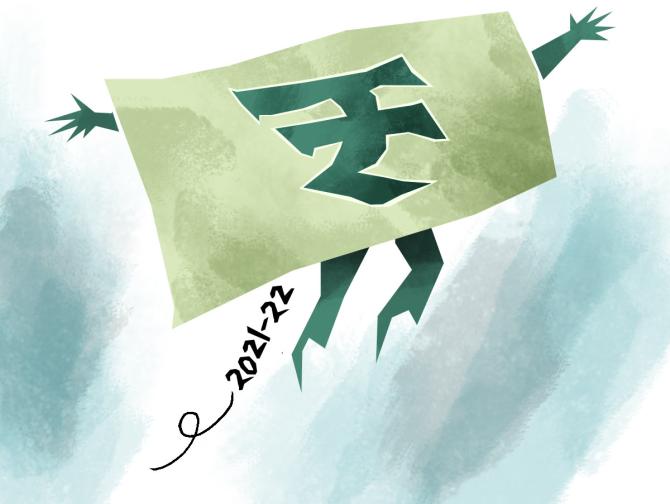 India Inc's contribution to gross domestic product (GDP) is predicted to nearly treble by FY23.
The ratio in FY20 was the lowest in two decades, at just 1.8 per cent.
The long-term average of profit-to-GDP is about 4.4 per cent.
The mean revision premised on the sharp recovery in corporate earnings for the next two financial years.
"Aggregate consensus profit after tax of the top 360 stocks is expected to rise from Rs 4.6 trillion in FY20 to Rs 9.6 trillion (about 5 per cent of GDP) in FY23, at a CAGR of 27 per cent," says a note by ICICI Securities.
CAGR is compound annual growth rate, a measure of the average yearly growth, typically for a long period.
The brokerage believes the bulk of the incremental profits will come from sectors banks followed by oil & gas and automobiles due to "normalisation of depressed earnings".
"Sustainable trajectory of profit-to-GDP will depend on how the demand environment pans out.
"Encouragingly, aggregate demand will get a boost from a classical 'countercyclical fiscal policy' unveiled in the Union Budget 2022, with a focus on capital outlay, which has a higher multiplier effect (3.6x) on demand and a longer impact (4-5 years).
"Progressive reforms done in the recent past and in the Budget will create an enabling environment for growth," says ICICI Securities strategists Vinod Karki and Siddharth Gupta in a note.
Another key factor that may boost the profit-to-GDP ratio is the narrowing of loss poll of India Inc. In FY18, the loss poll — cumulative loss of listed companies — had ballooned to 1.8 per cent of GDP, most in two decades.
Despite the hit due to the pandemic, the loss poll as a percentage of GDP is forecasted to fall to 0.7 per cent this financial year.
This is supported by a reduction in losses at telecom, industrials, and state-owned banks.
Further, the Centre's move in 2019 to cut base corporate tax from 30 per cent to 22 per cent, too, will lead to an improvement in the profit-to-GDP ratio.