Says operating environment for Indian corporate sector has improved during FY15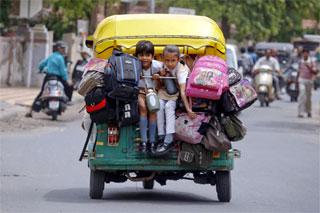 Indian industry has been witnessing an improved operating environment in the current fiscal on account of better macroeconomic factors, led by government's reforms and a likelihood of further pick-up in growth, says a report.
"The operating environment for Indian corporate sector has improved during FY15 with signs of stability in the macro- economic environment and likelihood of improvement on the growth front," said the report by rating agency Icra today.
In the first half of the current fiscal, India's economic growth improved to 5.5 per cent as against 4.5-4.7 per cent over the past couple of years.
Several policy initiatives by the government, including efforts to revive stalled projects, re-schedulement of premium payouts for road ventures and relaxation of environmental clearances have also alleviated some sector-specific concerns, Icra said.
From credit perspective, some highly leveraged corporates have initiated efforts to reduce their debt levels through fund raising programmes, including divestment of non-core assets and rationalising investment plans, it added.
Moderating inflationary pressures, a comfortable current account deficit (CAD) position and low likelihood of a fiscal slippage in 2014-15 have also boosted the possibility of repo rate cuts by RBI in the near-term, Icra said.
"However, if the recent weakening of the Indian rupee relative to the US dollar sustains, the timeline for interest rate cut may get delayed to an extent," it added.
The Icra report further said that the outlook on some sectors such as cement is gradually improving from demand perspective. In sectors such as iron and steel, overcapacity, firm raw material prices (iron ore) and subdued international steel prices would continue to weigh on margins of steelmakers.
Earnings of entities in the pharmaceutical sector will be supported by patent expiries in the US, strong product pipeline of leading Indian generics players and stable growth prospects in the domestic market, it said.
The report said that outlook on the country's downstream companies in the oil & gas sector remains stable in view of fall in under-recoveries following softening of crude oil rates, deregulation of diesel prices and roll-out of direct transfer of fuel subsidies to consumers.
For upstream companies, although an upward revision in natural gas prices is a positive, sharp fall in crude oil will adversely impact profits of small oil producers, it said.
The earnings outlook in the telecom sector is improving on account of reduced competition and restoration of pricing power, the report added.