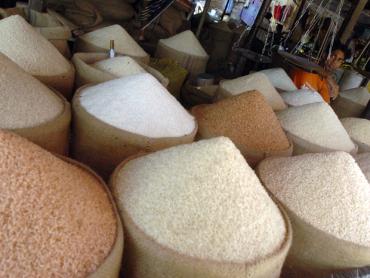 A year ago, India was viewed as a spoiler at the Geneva-based World Trade Organization (WTO).
But now, the table seems to have turned at the multilateral trading platform and India is hopeful that a permanent solution to the food stockpiling programme will be achieved by 2017.
While the talks are still at an early stage, regular dedicated sessions on the issue of public stockholding of grains for food security purpose are taking place in Geneva with full attendance by the developed countries, including the US.
Special sessions to discuss the matter are also happening among the countries that run such food stocks programme, a senior commerce ministry official told Business Standard. According to the decision taken during the ninth ministerial meeting in Bali, Indonesia in December 2013, a permanent solution to the food stocks was to be achieved by December 2015.
But the deadline was revised to December 2017 during the WTO General Council meeting in November 2014.
"The ministerial decision to achieve the permanent solution remains December 2017, when the 11th ministerial takes place. However, we are trying to achieve it by the Nairobi ministerial but that looks unlikely although regular talks on this issue is taking place," said the official, who is involved in the talks.
India, China and other developing countries that run food stockpiling schemes basically want the subsidies given to their poor and marginal farmers should become part of the 'green box' of WTO subsidies - meaning these subsidies are not considered to be distorting trade.
Meanwhile, a handful of developed countries have raised concerns over the methodology used by India to calculate the quantum of subsidies it gives to its poor and marginal farmers by way of minimum support price on rice and wheat. Last year, India notified to the WTO that it has given subsidies worth $56 billion during 2004-05 to 2010-11.
Earlier this year, the US accused India and China of exceeding the WTO limits on farm subsidies, saying these caused trade distortion.
"Increasing support levels gave Indian farmers an artificial incentive to produce more wheat. In fact, India's wheat production increased 35 per cent over those seven years (2005-06 to 2013-14) to record levels.
That buoyed world wheat supplies and increased pressure on prices that hurt wheat farmers in other countries," said the US Wheat Associates in a media release.
India, as well as other members of the G-33 grouping, has also turned down a US proposal on a permanent solution.
According to India, this could result in a scenario where countries would be dictated what sort of food security models they should adopt.