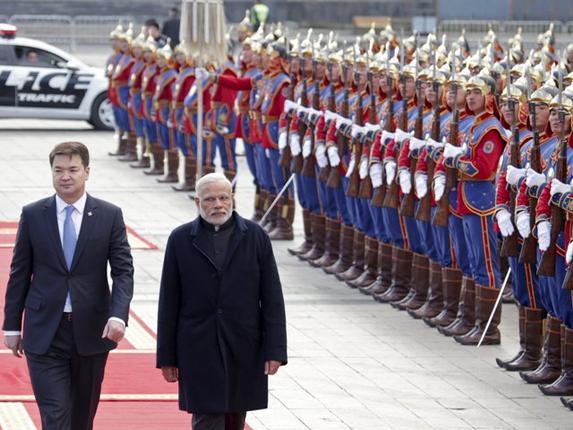 India on Sunday announced a $one billion credit line to Mongolia to support its infrastructure development as the two countries decided to deepen cooperation in border security and explore the huge potential of tie ups in civil nuclear sector, mining, healthcare and other areas.
Prime Minister Narendra Modi, who is on a two-day visit to Mongolia, the first ever by an Indian Premier, held wide- ranging discussions with his Mongolian counterpart Chimed Saikhanbileg, pledging to take bilateral economic partnership to a new level.
"Today, Mongolia is also an integral part of India's Act East Policy," Modi said in a statement at a joint press meet with the Mongolian premier at the State Palace here.
"The destinies of India and Mongolia are closely linked with the future of Asia Pacific region. We can work together to help advance peace, stability and prosperity in this region," he said.
The two Prime Ministers signed a joint statement committing to further consolidate bilateral ties and upgrade the comprehensive partnership to "strategic partnership" and agreed to renew their Treaty of Friendly Relations and Cooperation.
The two sides inked 13 other pacts that includes one on enhancing cooperation in border guarding, policing and surveillance, air services, cyber security and new and renewable energy.
On a day of packed schedule, Modi addressed the Mongolian Parliament, which was specially convened on a holiday, saying this is a region of ancient wisdom and youthful dynamism.
"It is a continent that is expected to lead the world in the 21st century. "Yet, this is also a region that lives on the uneasy edge of uncertainty, of unsettled questions, of unresolved disputes and of unforgotten memories," he said.
Image: Prime Minister Narendra Modi with his Mongolian counterpart Chimed Saikhanbileg (L) during a welcoming ceremony in Ulan Bator.
Photograph: Reuters