During 2014, the ministry announced creating a shelf of ready-to-launch projects worth over Rs 3 lakh crore (Rs 3 trillion).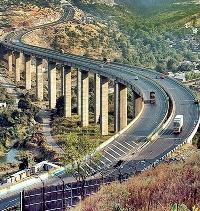 Setting himself a target of building 30 kms of roads a day, the 'flyover man' from Maharashtra, Nitin Gadkari, will need to ensure consistent investment flows and easier regulations to turn around the crisis-hit highways sector in the new year.
The sector hit many roadblocks during 2014, as builders were seen shying away from the projects and investments dried up amid various regulatory, judicial and policy-related bottlenecks.
Gadkari, who prides himself on adopting innovative ways in building infrastructure during his tenure as PWD minister in Maharashtra in the past, began the groundwork at central level also, as soon as he assumed charge as Union Minister for Road Transport and Highways.
During 2014, the ministry announced creating a shelf of ready-to-launch projects worth over Rs 3 lakh crore (Rs 3 trillion).
Besides, it has begun rolling out Rs 1.8 lakh crore (Rs 1.8 trillion) worth of projects -- out of schemes worth Rs 2.8 lakh crore (Rs 2.8 trillion) stuck earlier -- to bolster infrastructure growth.
Gadkari has also unveiled a blueprint for achieving the target of developing 30 kms of roads a day target.
The ministry is hopeful that developers would come back soon and the scenario would change from bidders earlier shying away from road projects on account of equity crunch, environmental delays and land acquisition problems.
For the ministry, e-rickshaw was another area that hogged much limelight during 2014 after the Delhi High Court banned their plying in July on safety concerns.
As the year drew to a close, Gadkari announced that the ordinance route has been adopted to pave the way for plying of these battery-operated vehicles on roads of national capital region.
The year had a fair share of controversies, with NHAI coming out with a White Paper blaming the previous regime's policies like award of projects without land acquisition for the poor performance of road sector.
It was stated that about 60 per cent of the National Highways Authority of India schemes are embroiled in disputes.
As many as 189 out of 332 NHAI projects in 20 states involving Rs 27,210 crore (Rs 272.1 billion) are stuck in such disputes.
At the fag end of the year, NHAI itself was put in the dock by the government auditor CAG for favouring private players.
It said that Reliance Infra, L&T, IRB and other companies have been unduly allowed to collect over Rs 28,000 crore (Rs 280 billion) as additional toll on nine major national highways including the Delhi-Agra stretch.
On his part, Gadkari says the government is in the process of plugging the loopholes and an electronic toll collection system will be in place on 350 stations by March 2015.
He said the system will result in a huge savings, to the tune of Rs 86,000 crore (Rs 860 billion) per annum, incurred at present on account of delays on toll booths besides on fuel.
Confident about a bright outlook for the sector, he said that the government was confident of achieving construction of 30 kms of roads a day in two years and has recently awarded Rs 40,000 crore (Rs 400 billion) contracts for building roads.
Also, emphasis is being laid on building cement roads.
Another focus during the year remained the Motor Vehicles Act which the government said would be overhauled in line with advanced nations like US, UK and Australia.
The ministry plans to adopt the international best practises in road safety and project management in this new legislation which is touted to be a landmark act.
Gadkari said the bill would be placed in Parliament in the next session.
Photograph: Kind courtesy, NHAI