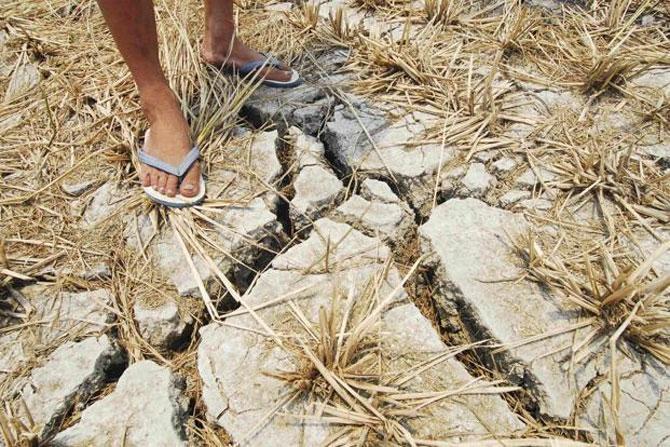 It is that time of the year when farmers in north and central India worry incessantly of unseasonal rain and hail. As the weather offices had predicted, these have resurfaced in the last few days.
Though their intensity has been less so far and the exact impact on the crop is not yet known.
The India Meteorological Department had predicted isolated incidents of rain, squall and mild thunderstorms over parts of Punjab, Haryana, western Uttar Pradesh and Madhya Pradesh.
It has already been intermittently raining in parts of Maharashtra for some days and in Rajasthan.
"In the next three days, rain and hailstorms would continue in parts of Punjab, Haryana, Delhi and west UP.
Thereafter, the trough will shift towards eastern India. In Maharashtra, the intensity of rain will peter out in the next few days," said G P Sharma, vice-president at Skymet Weather Services.
He said mild hail at isolated places in the north might not have a big impact on the standing wheat and mustard crop, but if the showers are heavy, it might.
"The rains would reappear from March 11 and last till March 14," Sharma added.
In 2015, the standing crop on 19 million hectares was damaged due to unseasonal rain and hail in almost all parts of north and central India.
These started around the same time, the end of February to early March.
Though, it did not have much of an impact on the final output, it did aggravate distress in rural India.
P K Joshi, South Asia director at the International Food Policy Research Institute, said mild showers could, in fact, be good for the standing wheat crop in north and central India.
However, if accompanied by heavy hailstorm, as had happened last year, it might damage the crop.
By the second advance estimate of foodgrain production, India is expected to produce around 94 million tonnes (mt) of wheat in the current rabi season, about seven mt more than last year.
Mustard production is expected at 6.83 mt, marginally more than last year.
The image is used for representational purpose only. Photograph: Reuters