The current episode highlights the structural vulnerabilities in the liquidity management practices of Indian NBFIs
Illustration: Uttam Ghosh/Rediff.com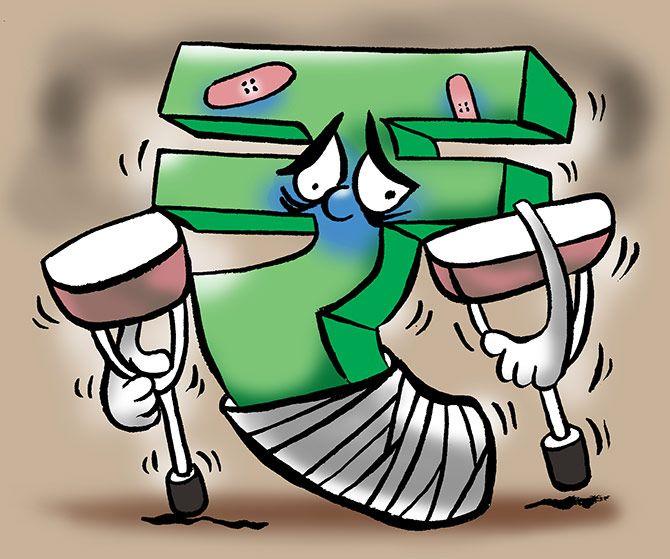 Global rating agency Moody's on Monday said that a continued liquidity crunch in markets, following defaults by IL&FS and its group entities, will erode the credit profile of non-banking financial companies (NBFCs).
The regulators are taking steps to limit the scope and duration of the liquidity crisis and most finance companies can deal with multi-week tight liquidity conditions.
"However, the prolonged liquidity distress will significantly erode the NBFIs' credit standing, and prove negative for the broader economy and structured finance sector," Moody's said in a statement.
Moody's said the liquidity tightness could lead to a sharply higher financing costs for NBFIs.
They may even face difficulty in rolling over their liabilities because these companies have relied heavily on market borrowing to fund asset growth.
These comments are part of the report "Finance companies - India: Prolonged liquidity stress is a significant credit risk for Indian finance companies".
The current episode highlights the structural vulnerabilities in the liquidity management practices of Indian NBFIs.
In particular, these companies have very little backup liquidity and their liquidity management mainly involves matching their short-term liabilities with assets.
This approach exposes them to even minor disruptions in the debt capital markets, it added.
Any effects on the NBFIs will spill over to the broader economy - mainly through the credit channel - because NBFIs are a material provider of credit for the economy.
Their outstanding loans/GDP at the end of March 2018 registered 13 per cent versus banking system loans/GDP of 52 per cent.
Consequently, a slowdown in credit growth provided by NBFIs will dampen overall consumption and economic growth.
A study of the Indian NBFIs' liquidity management practices suggests that these companies are capable of coping with multi-week liquidity distress.
But a prolonged period of liquidity stress - which does not represent Moody's base case scenario - will severely weaken the NBFIs' credit standings.
"There will not be a significant impact on the credit quality of the Indian structured finance sector, nor performance of Indian asset-backed securities (ABS) in Moody's base case," it added.