Silicon Valley techies and investors who were at Prime Minister Narendra Modi's Digital India dinner analyse the parlay for Ritu Jha.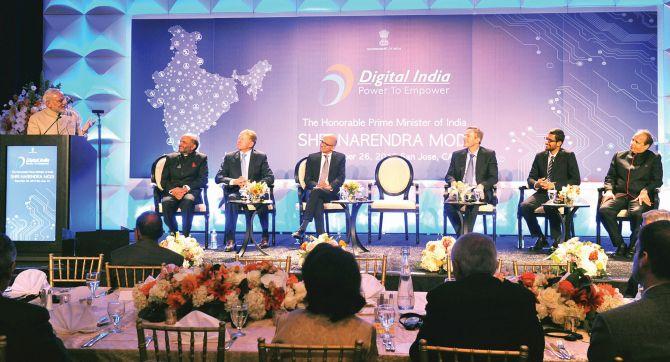 Image: Prime Minister Narendra Modi addressing the audience at the Digital India dinner in San Jose, California, on September 26, 2015. Photograph: Press Information Bureau.
Silicon Valley has welcomed the speeches of Prime Minister Narendra Modi and leading chief executive officers at the Digital India dinner in San Jose, California, on September 26, where over 350 of the who's who of technology industry were present.
Among the speakers were Adobe's Shantanu Narayan, Cisco's John Chambers, Microsoft's Satya Nadella, Qualcomm's Paul Jacobs, and Google's Sundar Pichai. All the CEOs who spoke promised to do more for Digital India, but it was the Qualcomm chief who committed $150 million in Indian start-ups.
Later, in a conversation with Rediff.com, Vishal Sikka, CEO and managing director, Infosys, spoke about the unique connection between Silicon Valley and India and how it demonstrated the power of education and common values -- "and innovation and entrepreneurship can help us succeed".
"What you saw was the willingness on the prime minister's part to open that door," Sikka said about Modi's speech. But he noted the challenges too: "I think easing the infrastructure and opportunity to work are the big ones."
Vish Mishra, venture director, Clearstone Ventures, also welcomed Modi's speech.
He said when Modi took the podium, he immediately caught the attention of the gathering and spoke well, at times injecting humour, while outlining a long list of his initiatives. He praised America, especially California. Modi's statement that 'California is where the sun sets last and new ideas see the first light of the day,' drew a huge applause.
"All in all, the CEOs and Modi appealed to everyone in the room, but Modi took the crown with his charisma," said Mishra. "In my view, if the Modi government can deliver on even less than half of the promise and initiatives, he stands a chance to remain in power for the next term."
Arogyaswami Paulraj, inventor of MIMO, the key enabler of broadband wireless who was also at the dinner, spoke to Rediff.com about the enormous potential modern information and communication technologies have for transforming education, e-governance, healthcare and commerce in India.
"These technologies are particularly potent enablers for inclusiveness and rural reach. It will take more than ICT to lift India's poor, but these are without doubt powerful levers and Modi clearly grasps this and has beckoned Silicon Valley to join in this worthy journey," he said.
Entrepreneur and academic Vivek Wadhwa felt Modi's speech was more interesting than that of the other five. "Modi out-signed technology CEOs on stage," he told Rediff.com. "I give him A+ for his speech."
Ruchi Sanghvi, board member at Paytm and a former vice president at Dropbox, and the first woman engineer at Facebook, found Modi's speech interesting, especially when he touched upon Silicon Valley's innovation and the power of technology to bridge gaps. Sanghvi said she and her husband Aditya Agarwal, a board member at Flipkart, strongly believed in entrepreneurship and were "really glad that Modi is actually providing support and highlighting start-ups."
Agarwal added that the speech was relevant in terms of what they aspire to build: "I think he was spot on… technology could be the bridge between hope and opportunity. That is why we built technology, to connect with people."
Vinod Dham, father of the Pentium chip, felt Modi's visit to Silicon Valley was about learning how innovation takes place there as well as to symbolically show that he understood that India's future rested in enhancing innovation in India.
Rajeev Dham, Vinod Dham's son and vice president, Sapphire Ventures, who has invested globally and in India, said, "All the reports that we look at, it's exciting. The consumer base in India is growing at a much more rapid pace and just by sheer volume it's so much larger than any other country. It's amazing. From my standpoint as a venture capitalist interested in start-ups, India is going to be an amazing place to invest."
But, he said, India needed to improve the basics, including roads, sewage system, and transportation: "You have opened up foreign direct investment and encouraged business activity, but at the same time, there is so much work to do."
He added that Modi's focus on the business sector resonated with him, but reiterated that he had "to tackle the big issues I have mentioned."