Indian automobile units are employing more and more robots to improve your car's efficiency.
India is catching up well as world over, the latest technology is redefining outdated manufacturing processes.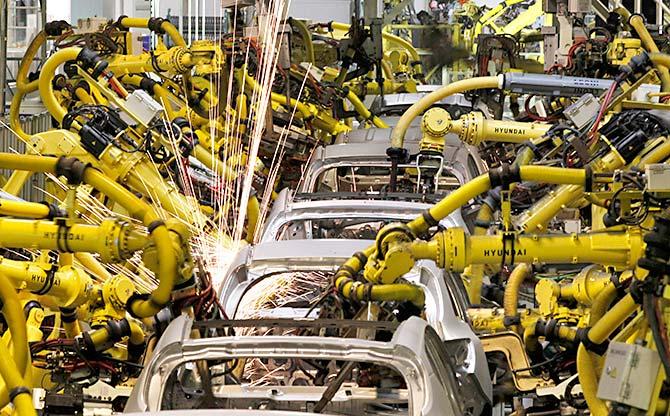 The Hyundai plant in Sriperumbudur in suburban Chennai doesn't conform to the old-fashioned image of a factory with greasy floors and deafening noise.
Instead, it looks clean and welcoming.
The rows of brand new cars indicate that the factory is working at full tilt.
The plant churns out one car every 30 seconds!
This is thanks not only to the men in blue coveralls who work here. Toiling side by side with the humans are a bunch of yellow-hued robots that help ramp up the unit's efficiency and productivity.

A few hundred kilometres away, Honda's two-wheeler plant, near Narsapura, in the outskirts of Bengaluru, also uses robots to improve efficiencies. Indeed, most automakers who have set up manufacturing plants in India are resorting to automation to boost their productivity.

At Hyundai's Sriperumbudur factory, where 580 robots are in use, the defect ratio has dropped from five per cent to less than two. This plant is in the Top 5 in the Qualitivity charts (Quality + Productivity) amongst Hyundai Motor Group's (HMG) 32 plants worldwide. It was also HMG's Number 1 performing overseas plant and the No 1 Safety Plant in 2017.

Says S Ganesh Mani, vice president, production, Hyundai Motor India Ltd, "Our strategy is to use automation to minimise and eliminate dirty, dull and dangerous jobs and to improve overall efficiencies."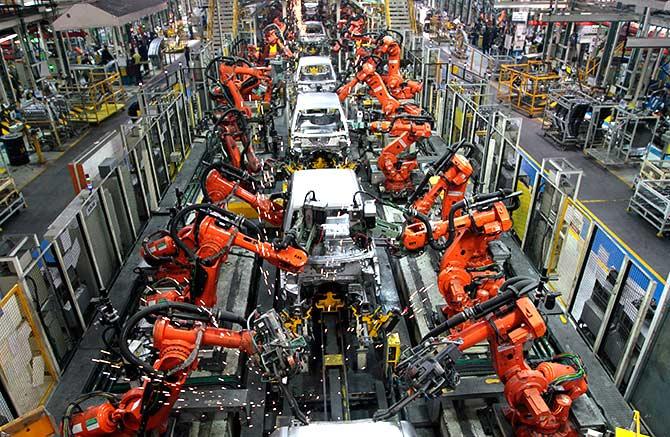 Other auto manufacturers are also using automation in a big way. Sources say that Maruti Suzuki India Ltd now has one robot for almost every four workers and that it has some 5,000 robots at its Manesar and Gurgaon plants.

Earlier, welding guns used to be operated manually in the body shop of an auto manufacturing unit. Welding became more sophisticated and the guns got heavier, manual operation became tougher. Robots are perfect for this function. They are also employed to conduct quality checks on the engine of a car using the high-speed Vision system.

Currently, HMIL's body shop is more than 95 per cent automated and its paint shop is 65 per cent automated. HMIL has been enhancing automation levels year on year by migrating from third to fourth generation robots.

Honda's new two-wheeler manufacturing unit near Bengaluru is fully automated as well. For example, where earlier humans picked up material from one machine and fed it into another, this task is now done via a robotic hand, from end to end. Thanks to automation, the line that was earlier manned by around 10 workers has upped its productivity with just three or four workers, reveals V Sridhar, group vice president and director, Honda Motorcycle & Scooter India Pvt Ltd.

In fact, the productivity of this plant is 20 to 25 per cent higher than Honda's first two-wheeler plant in India, which is minimally automated.

The use of automation on the factory floor is no longer sporadic, though.

The world over, Industrie 4.0 -- the latest technologies in automation and data sharing in manufacturing -- is redefining outdated manufacturing processes. And India is catching up as well.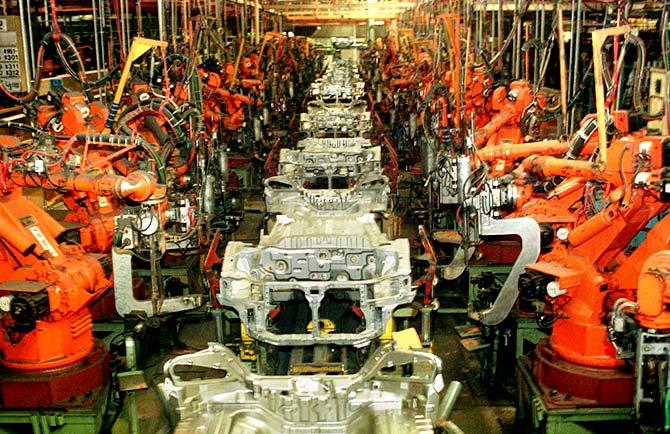 "We have many smart sensors installed in the machine, which keep track of various operations," says Sridhar.

For instance, a bearing condition monitoring robot will monitor the temperature of the bearing, take the feedback to the control panel, and thus save the time taken to put the machine back into production. This results in a five to seven per cent increase in asset utilisation, Sridhar explains. HMSI has introduced automation to forecast and pre-empt machine breakdown at its third factory near Bengaluru and plans to extend it to its other units soon.

In fact, the emergence of Collaborative Robots, which can work with humans, has hugely extended the use of robotics on the shop floor. "In the past only big automotive companies used robots. But with Cobots, it has became affordable for small industries and component manufacturers as well," says Pradeep David, country head, India and Sri Lanka, Universal Robots, which is a pioneer in Cobots.

Market intelligence firm IDC estimates that by 2020 nearly two-thirds of all work in factories will be done by Cobots.

Would that make human workers redundant? Not necessarily. Companies say that they are now upskilling employees to manage robots and troubleshoot online.
The gains of automation are clearly too big to ignore and eventually society will have to find the best human-machine balance for optimising manufacturing processes.