Phee Teik Yeoh, who has returned to the SIA HQ in Singapore, worked hard to make Vistara the airline of choice. New CEO Leslie Thng would have the job of cutting losses while going international.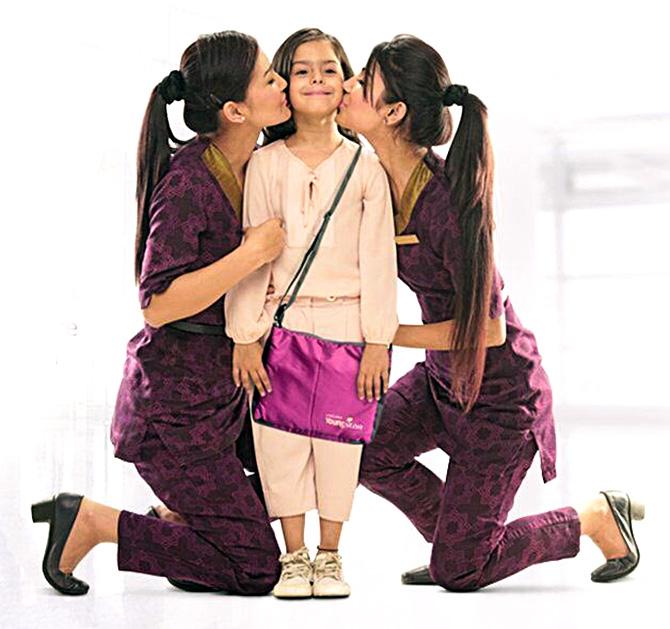 IMAGE: With clever, innovative advertising and by making sure it got impeccable word-of-mouth reviews, Vistara built itself up as the airline of choice in the country. The Best Domestic Airline award from Travel + Lesiure magazine cemented that. Photograph: Kind Courtesy @airvistara/Twitter.
Vistara's chief executive officer Phee Teik Yeoh has been a Singapore Airlines man for life.
Even his student days at university -- studying Chemistry -- were under the airline's scholarship programme. The company recognised his talent early. After only four years of serving at two international destinations, he was brought back to work in the chairman's office. He soon became part of all regulatory processes and board decisions.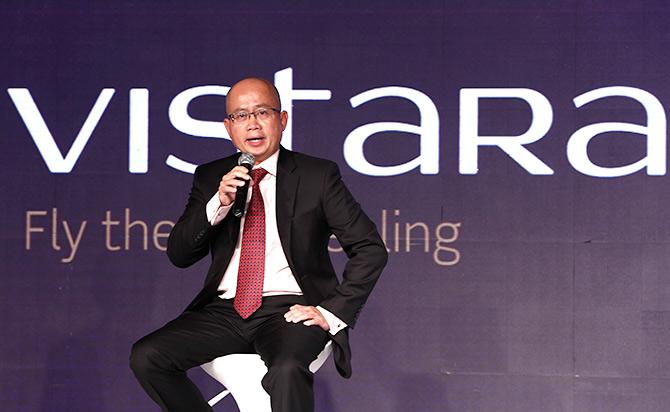 IMAGE: Vistara's chief executive officer Phee Teik Yeoh, has been ably helming the Tata-SIA airline since start up. Photograph: Adnan Abidi/Reuters.
When Tata Sons finally tied up with SIA to set up an airline, after a failed attempt in 1990, Yeoh was the first choice to lead the venture. "My mandate was to launch the venture as quickly as possible and we did that in record time…aircraft was delivered in September 2014 and we were in the skies by January," he said in an interview earlier this year.

That was not an easy task as the Tata-SIA joint venture was facing regulatory hurdles due to opposition from incumbent airlines, which did not want the authorities to allow a foreign airline to take wing. "We managed to convince the authority that in no way are we foreign, we are a true blue-chip Indian company, with illustrious parents," he said then.

Setting up an airline, which wants to differentiate on service quality, is one thing and running it in a market where fares can fall below Rs 1,500 is another.


IMAGE: A Vistara Airbus A320 passenger aircraft taxis on the tarmac after landing at Chhatrapati Shivaji International airport in Mumbai. Photograph: Shailesh Andrade/Reuters.
For the first six months, 40 per cent of Vistara seats remained empty. Clearly, the airline's focus on premium was becoming a problem. Yeoh accepted that his team had read the market wrong and decided for a cabin reconfiguration. The airline cut its business-class and premium-economy seats and increased the number of economy-class seats.

"We have shown we can sell economy-class seats better than other airlines. Very soon, our load factor in economy class will exceed the market average," Yeoh had said then too.
It showed results: Vistara's load factor since then has hovered around 80 per cent, at par with other airlines. "We have grown very quickly. We have managed to open 18 destinations in 18 months. We are a committed player in the domestic market," Yeoh said in January.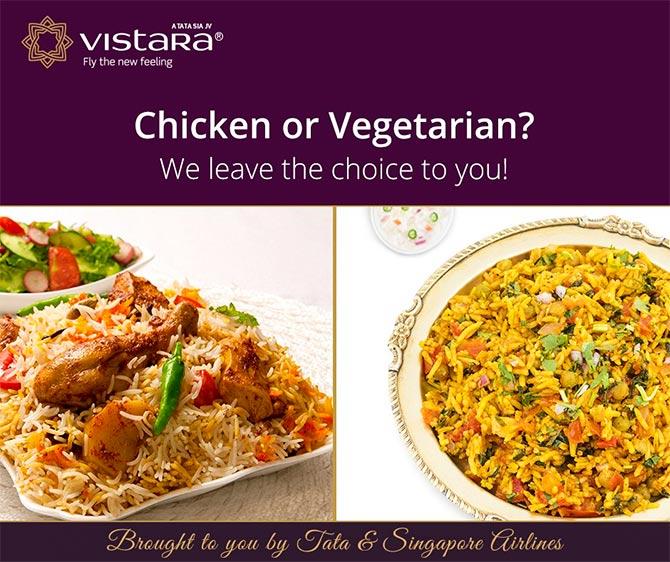 IMAGE: After the national carrier went vegetarian, in an advertisement Vistara made a sly dig at Air India, now called Air Bhindiya by Twitter wags. Photograph: PKind Courtesy @airvistara/Twitter.
What he managed to do was spread an impeccable word of mouth for Vistara. It got rave reviews from flyers.
With clever and innovative advertising, it seemed the airline of choice of the who's who in the country. "I like the airline, comfortable leg space, wonderful catering service," said Moran Birger, British Airways regional manager for South Asia.

But, maintaining the standard came at a cost. The airline has suffered Rs 900-crore loss in the first two years. Its cost available seat kilometre stood at Rs 5.28 at the end of FY16, significantly higher than other carriers. Some call it gestation cost while others call it cash burn.
Despite that, Yeoh got an extension of tenure from the Vistara board in April. What made the company call him back only after a month?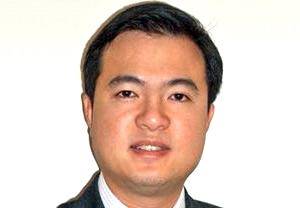 IMAGE: Former SilkAir CEO Leslie Thng will take charge as the new CEO of Vistara in October. Photograph: Kind Courtesy @BHX_Ambassador/Twitter.
"There was no problem with his functioning, Singapore Airlines has a rotation policy, independent of procedural matter at the Vistara board," a person close to the development said.

Former SilkAir CEO Leslie Thng will take charge as the new CEO in October. The airline, said he would lead to next phase of growth -- international operations.

With Jet Airways now firming up new alliance partners, and IndiGo rushing to their long-haul international preparations, Thng -- a veteran in aviation business -- will have to be in battle mode from Day 1.