What can households do with the old Rs 500 and Rs 1,000 notes?
How can they find Rs 100 and smaller denominations?
Priya Nair reports.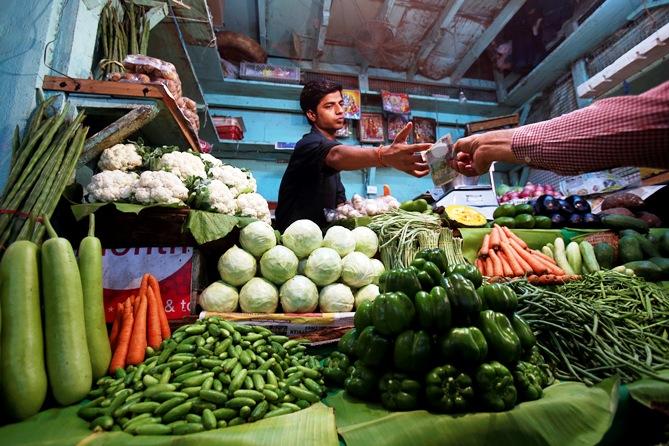 Most middle-class households hold a few thousand rupees in cash at any point of time for a variety of purposes such as travel, medical emergencies, etc.
The recent demonetisation of Rs 500 and Rs 1,000 notes has caught them unawares.
They are wondering what to do with the old notes of Rs 500 and Rs 1,000 and how to find the Rs 100 and smaller denomination notes required for small-value transactions.
You can exchange old notes of Rs 500 and Rs 1,000 worth up to Rs 4,500 for smaller denominations.
Larger amounts can be deposited in your bank account and withdrawn later, in smaller-denomination notes. But the long queues are a big deterrent.
So, what are the other options?
You can fill your car's fuel tank, as petrol pumps are accepting old notes up to November 24. But you may not get change in return.
Power companies, too, are accepting bill payments in Rs 500 and Rs 1,000 currency notes from residential consumers.
You can also buy railway tickets and renew your monthly or quarterly pass with old notes.
You can also buy and top-up your metro card with them.
Check with your local retail store and see if you can pay money and get a credit note or coupons in return.
Some school bus operators are accepting old currency notes if parents are willing to pay next term's fees in advance.
While most fine-dining restaurants today accept card payments, you may face a problem if you want to have your morning tea or breakfast at a small eatery.
You may also find it difficult to buy vegetables or fruits from the local vendor. But, if you go to a large-format store, you can pay by card.
If there is a medical emergency, use the cashless facility of your medical insurance.
If you don't have insurance, pay via demand draft or debit card.
Suresh Sadagopan, founder, Ladder7 Financial Advisories, says for most middle-class households, about 80 per cent of transactions can be done without cash. Only small-ticket transactions will see an impact. Most others can be done using credit/debit card or mobile wallets, he says.
But the new Rs 2,000 notes are also posing a problem, especially in small towns, points out Manikaran Singal, founder, Good Moneying Financial Solutions, a financial planner. It would be difficult to get change for Rs 2,000.
Even retail stores are not able to give the balance if you purchase goods worth a few hundreds and give a Rs 2,000 note.
Many of these customers are not net-savvy. So, using mobile wallets are difficult for them, he says.
Those depositing cash in the bank up to Rs 2.5 lakh (Rs 250,000) need not worry as the government has clarified that households depositing up to that amount will not be targeted by the tax department.
A housewife who earns money from tuition may have saved her earning in cash. "If she is able to show the source of her income, there will be no problem," says Kuldeep Kumar, partner and leader at PwC India Global Mobility Practice.
"The amount has to be reasonable. Even if a housewife has managed to save money from the amount her husband gives her for household expenses, it should match her husband's income. Someone with an annual income of Rs 10 lakh (Rs 1 million) may be able to save Rs 25,000 to Rs 30,000 in a year. But if it is a huge amount, the tax authorities will want to see the husband's income," he says.
READY RECKONER
Withdraw maximum of Rs 2,500 from ATM
Exchange maximum of Rs 4,500 worth old currency at bank branches
Withdraw maximum of Rs 24,000 in a week from bank branch
Use old currency notes at petrol pumps, government hospitals, railway stations and for paying taxes, electricity and water bills up to November 24
Households depositing up to Rs 2.5 lakh in bank accounts will not attract tax queries
IMAGE: A vegetable vendor in Mumbai. Photograph: Vivek Prakash/Reuters