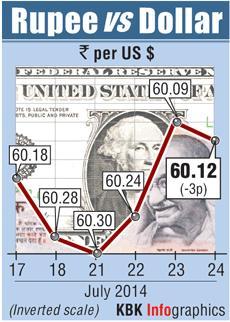 The rupee ended weaker on Thursday, retreating from a more than one-week high hit earlier in the session on the back of month-end dollar demand from importers and possible intervention by the Reserve Bank of India.

The rupee had initially gained on sustained foreign fund inflows into the stock and debt markets and after India on Wednesday allowed foreign institutional investors to hold more government debt while reducing the portion available to long-term investors.

But that was not enough to sustain the gains given heavy dollar buying by state-run banks to meet month-end import payment demands of clients, with some traders citing potential dollar buying by the RBI.

"There was good dollar selling by foreign banks at every level while there was good bidding from the state-run
banks," said A. Ajith Kumar, a foreign exchange dealer with Federal Bank.
"We are likely to continue seeing a 59.80 to 60.50 range for some more time," he added.
The partially convertible rupee closed at 60.12/13 per dollar, compared with 60.0925/1025 on Wednesday.
The unit hit 59.98 during the session, its strongest since July 14.
Overseas buying of shares and debt continued with inflows of $139.5 million and $136.2 million respectively on Wednesday, taking total investments across the two segments to $24.97 billion so far in 2014.
Foreign buying is helping prop up share markets, which rose to record highs on Thursday.
In the offshore non-deliverable forwards, the one-month contract was at 60.32 while the three-month was at 60.79.