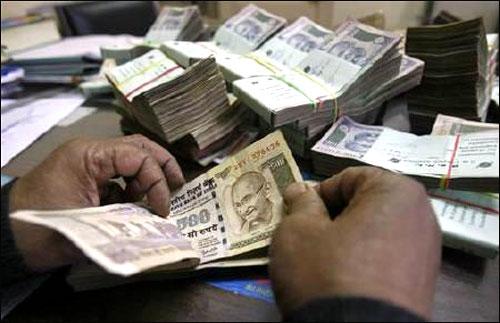 The rupee fell back sharply after a strong overnight rally and ended with a 17 paise loss at 66.88 against the US dollar, the lowest level in more than two years in the face of strong demand for greenback.
Fresh dollar demand from importers drive by heavy capital outflows and a steep fall in local equities largely weighed on the rupee value.
Some caution ahead of the key economic data -- industrial production numbers for October -- which is due later in the day also impacted the trade.
Market sentiments remained jittery with an imminent higher interest rate environment arising out of the US Federal Reserve's action next week.
Weak dollar overseas, however, limited the fall.
The home currency opened lower at 66.80 per dollar compared to Thursday's close of 66.71 at the Interbank Foreign Exchange market on fresh dollar demand from banks and importers.
Later, it recovered some lost ground and moved erratically in a range of 66.74 and 66.90 in afternoon trade before concluding at 66.88, revealing a fall of 17 paise, or 0.25 per cent.
The Indian rupee had appreciated by 12 paise to end at 66.71.
Market participants are highly cautious at this juncture ahead of the much awaited Fed rate hike decision next week and the potential impact on the country's currency as India will not be immune if global volatility increases, a forex dealer said.
In worldwide trade, the dollar traded little changed against other major currencies ahead of US retail data despite robust US jobs data overnight.
China's yuan dropped to its lowest level against the dollar in over four years impacted by economic slowdown and hefty capital outflows even as the central bank steadily guides the currency lower.
Meanwhile, the Bank of England decided to keep the benchmark rate unchanged at 0.50 per cent as expected in the wake of slight deterioration in the outlook for the global economy and inflationary pressure.
The dollar index, which tracks the world's reserve currency against a basket of its peers, is down 0.14 per cent at 97.78.
Crude oil extended weakness for the fifth consecutive day with the Brent contract closing below the $40/bbl for the first time since August 2004.
The stock market flagship index Sensex plummeted over 208 points to end at 25,044.43 after overnight relief rally faltered on renewed worries about global growth woes amid falling oil prices.