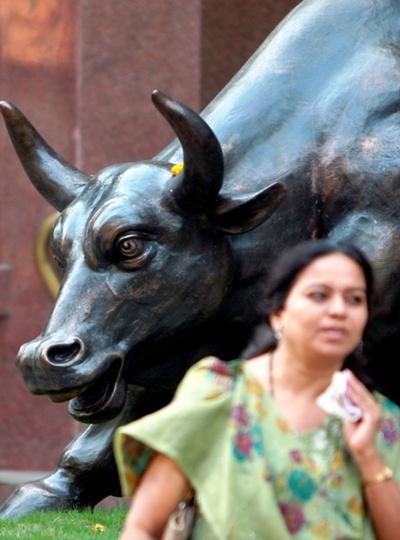 Benchmark share indices ended 1% higher on Friday after the US Federal Reserve's decision to maintain status quo on key policy rates eased concerns over foreign fund outflows while hopes that the Reserve Bank of India may reduce key policy rates also aided sentiment.
The 30-share Sensex ended up 255 points at 26,219 and the 50-share Nifty closed 83 points higher at 7,982.
In the broader market, the BSE Mid-cap and Small-cap indices were up 0.7-1% each. Market breadth was strong with 1,708 gainers and 920 losers on the BSE.
Meanwhile, foreign institutional investors were net sellers in equities worth Rs 337 crore on Wednesday.
On Thursday markets were close on account of Ganesh Chaturthi festival.
The Indian rupee appreciated against the US dollar and was trading 62 paise higher at Rs 65.83 after the US currencies eased against major global currencies after the Fed's move to keep rates unchanged.
EXPERTS VIEWS
"The delay by the US Fed in holding rates showcases their lack of comfort with the current state of the global economy.
"While the US economy did meet the mandated requirements of comfortable inflation and lower unemployment the Fed made it clear that the state of the global economy did merit further attention.
The current state of the emerging markets, especially China do pose a negative overhang on an extended global recovery.
Further, the odds of a rate cut by the RBI on September 29 have risen on the margin given the weak assessment by the US Fed," said Tirthankar Patnaik, Chief India Strategist, Mizuho Bank.
"The US Fed's decision to delay raising rates is positive for interest rate in India which we are expecting to come down.
"Indian equities continue to be good long term investments despite emerging market redemptions".
Nimesh Shah, MD & CEO, ICICI Prudential MF.
"The Fed decision not to hike the rate puts to rest the confusion that has bogged emerging markets including India.
"The nervousness that has prevailed in the recent past should give way to stability and outflows from emerging markets should be stemmed.
"It gives a great opportunity to buy many stocks available at lower prices. I remain optimistic about our markets." said Motilal Oswal, CMD,Motilal Oswal Financial Services.
GLOBAL MARKETS
Except Japan most Asian markets ended with marginal gains.
The benchmark Nikkei ended down 2% while Shanghai Composite, Straits Times and Hang Seng ended up 0.3-0.4% each.
However, European shares were trading lower with FTSE, CAC-40 and DAX down 1-2% each after the US Fed kept rates on hold citing global growth concerns.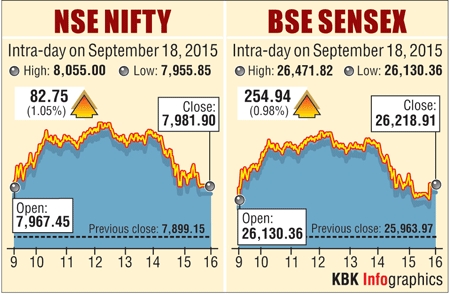 SECTORS & STOCKS
Except for FMCG and Capital Goods all sectoral indices on the BSE ended in the green led by Realty and Bankex.
Private banks were among the top gainers led by Axis Bank up 4.7% followed by HDFC Bank, ICICI Bank and SBI. Mortgage lender HDFC gained 1.5%.
Among the index heayweights Reliance Industries gained 2.6%. Infosys ended marginally higher after the IT major in a release announced that Qantas Credit Union has selected Infosys Finacle to improve its customers's digital experience, as part of their business transformation strategy.
Lupin gained 2.6% on reports it has received another nod from the US FDA for a drug that can treat bacterial infections.
GAIL ended down 1.1%. State gas utility GAIL India has re-invited bids to hire nine newly-built LNG ships on modified terms that allow Indian shipyards to pick up to 13 per cent stake in three of these carriers that shipbuilders have to make in the country.
Tata Steel will sell shares in automaker Tata Motors worth up to $188 million, according to a term sheet of the deal seen by Reuters on Friday. Tata Steel lost 0.7% while Tata Motors ended down 2.8%.
Maruti Suzuki gained 1% on reports that it is planning to start an investor roadshow in a bid to explain why it let Suzuki oun the upcoming plant in Gujarat.
Among other shares, SKS Microfinance slumped 15.5% after the micro-finance major remained unsuccessful in obtaining small bank license.
Granules India ended up 4.6% after the company announced that it has received approval from the USFDA for Ibuprofen tablets.