How did marquee Dalal Street investors fare in the Jan-Mar quarter that saw the BSE Sensex tank 10 per cent?
Deepak Korgaonkar and Puneet Wadhwa report.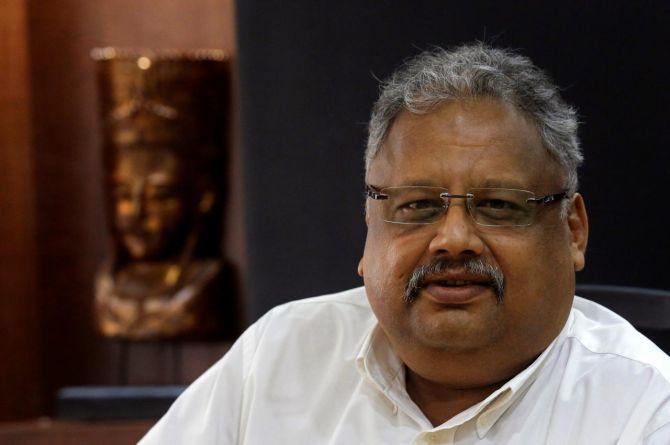 IMAGE: Rakesh Jhunjhunwala. Photograph: Shailesh Andrade/Reuters
A 10 per cent rise in the stock of the Titan Company during January-March 2018 (Q4FY18) helped Rakesh Jhunjhunwala outperform the market in the March quarter, as his net worth declined less than 1 per cent compared to three per cent fall recorded by the S&P BSE Sensex.
As on March 28, 2018, the combined net worth of Rakesh Jhunjhunwala and his family stood at Rs 130.21 billion, down 0.8 per cent or Rs 1.09 billion, as compared to Rs 131.30 billion at the end of December 31, 2017.
The figures are based on the family's holdings in companies where their total stake is more than one per cent (as publicly declared to exchanges), according to figures at the end of the October-December quarter source from CapitalinePlus database.
Among individual stocks, the Titan Company made Rakesh Jhunjhunwala and his family richer by Rs 6.39 billion during the last quarter.
The ace investor holds a 8.02 per cent stake in the company, translating to a total value of Rs 70.61 billion, as against Rs 64.22 billion at beginning of the year.
The scrip which gained 10 per cent during Q4FY18, surged to a record high of Rs 965 on Tuesday, April 10.
Rakesh Jhunjhunwala and his family increased their stake in the Titan Company and bought an additional 3.41 million, or 0.39 per cent, between October and December 2017, the BSE data show.
In the past one year, the stock has zoomed 107 per cent against 12 per cent rise in the S&P BSE Sensex.
Going ahead, analysts expect Titan to benefit most among the organised jewellery players from the recently implemented policy initiatives like the goods and services tax.
Analysts at Reliance Securities, for instance, expect Titan to clock 23 per cent and 30.4 per cent compounded annual growth (CAGR) in revenue and earnings, respectively through FY17-20E.
Firstsource Solutions (up 30 per cent), TV18 Broadcast (9 per cent), Escorts (4 per cent) and CRISIL (0.4 per cent) from the Rakesh Jhunjhunwala's portfolio, too, have outperformed the market.
On the other hand, Dewan Housing Finance, Lupin, Federal Bank, Delta Corp, Rallis India, Edelweiss Financial Services and Karur Vysya Bank are among notable stocks from his portfolio that have seen market value erosion between 10 per cent and 20 per cent.
Meanwhile, the portfolios of other renowned investors such as Dolly Khanna, Ashish Dhawan and Ashish Kacholia have underperformed the market by falling in the range of 7 per cent to 18 per cent on account of sharp correction in mid-and-smallcap stocks during the quarter.
The S&P BSE Midcap and S&P BSE Small-cap indices slipped 10 per cent and 12 per cent respectively.
Political uncertainty due to state and upcoming general elections in 2019, oil prices and other global factors will keep the markets choppy over the next one year, suggests G Chokkalingam, founder and managing director of Equinomics Research.
Against this backdrop, he expects the mid-and-small-cap segments to underperform the larger peers.
Chennai-based marquee investor Dolly Khanna has seen her total net worth decline 11 per cent from Rs 8.97 billion to Rs 8.01 billion at the end of March quarter.
Except NOCIL and Rain Industries, some of the other stocks such as Manappuram Finance, Gujarat Narmada Valley Fertilisers & Chemicals, Nilkamal and Thirumalai Chemicals have seen a market price erosion of up to 26 per cent during the quarter.
Yusuffali Musaliam Veettil Abdul Kader's net worth slipped 20 per cent to Rs 8.75 billion from Rs 10.92 billion. He holds two banking stocks Federal Bank and South Indian Bank, data show.
Ashish Dhawan and Ashish Kacholia have seen their networth erode 18 per cent and 11 per cent respectively.