The company has chalked out a detailed plan for development of its existing KG basin assets after integration with GSPC facilities.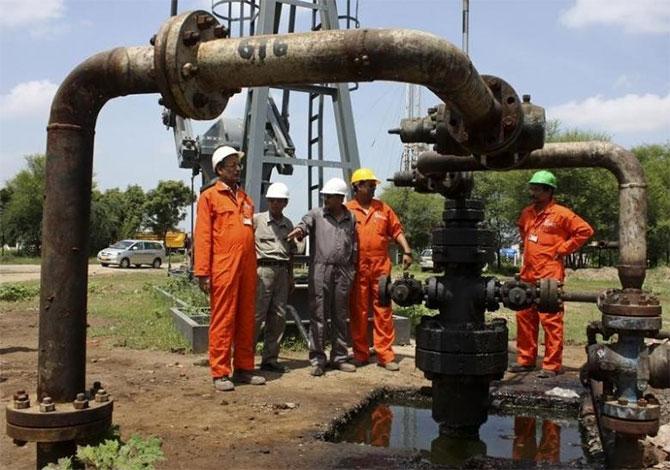 The country's largest hydrocarbon producer, Oil and Natural Gas Corporation plans to spin off its difficult fields into a separate division that includes Gujarat State Petroleum Corporation's Deen Dayal Upadhyaya discovery in the Krishna Godavari basin.
Besides, the company has chalked out a detailed plan for development of its existing KG basin assets after integration with GSPC facilities. It was this integration that added value to the $1.2 billion deal with GSPC, D K Sarraf, chairman and managing director, ONGC, told Business Standard.
An analyst, however, said ONGC had paid more money for the GSPC asset than its overseas arm ONGC Videsh had paid for the Vankor asset in Russia to Rosneft. "In terms of value per trillion cubic feet of gas, ONGC's overseas arm got it for half the price," said the analyst who requested anonymity.
ONGC Videsh bought a 26 per cent stake in Vankor for about $2.2 billion and ONGC bought GSPC's 80 per cent stake in KG-OSN-2001/3 for $995.26 million.
This block has the Deen Dayal West field. ONGC will pay an additional $200 million for six discoveries once the field development plan is approved and reserves have been certified by the management committee and the Directorate General of Hydrocarbons.
When asked about the lower valuation of the Vankor block compared to the GSPC asset, Sarraf said the rate of return for producers in Russia was much lower due to higher taxes. "When crude oil was $100 a barrel, we earned just about $20 from Russian assets," Sarraf said.
Initially, the GSPC deal size was expected to be in the range of $2-2.5 billion but ONGC brought it down to $1.2 billion.
"In oil exploration and production, wells, platform, pipeline and onshore processing facilities are important. GSPC has built these facilities at a cost of more than $1.52 billion," Sarraf said.
He added that four wells had been drilled and ONGC was involved with GSPC in drilling a fifth well.
Significant amounts of hydrogen sulphide and carbon dioxide, besides low permeability and porosity made the field difficult, he said. "Well 4 is a partial success since it was not designed for hydro-fracking. This issue is being addressed. Well 5 is being designed with hydro fracking. We will drill 32 similar wells over a period of time," he said.
GSPC is producing a minuscule quantity of natural gas from the existing well.
The entire ONGC business in difficult areas of high-pressure, high-temperature will be a separate division on the lines of its coal-bed methane and Mumbai businesses. The new division will include Nagayalanka, Machilipatnam, Nizampatnam, Cauvery offshore, Kutch offshore and blocks in the Krishna Godavari basin.
"All our knowledge of HPHT and GSPC's experience will be used in spinning off a separate asset. All ONGC's HPHT assets migrating from exploration phase will be part of the division," Sarraf said.
Facilities put up by GSPC will be used for ONGC's KG-DWN-98/2 block as well.
"Most of the gas from this block is gone (has been produced by Reliance Industries that holds the lease for the adjoining KG-D6 block). Our ability to develop Cluster I on a standalone basis is limited. We cannot justify high capital expenditure with little gas," he said. Along with DDW, ONGC is aiming to produce at least 1 trillion cubic feet of gas from the block.
ONGC has another cluster in the KG basin that requires separate production facilities. With the GSPC purchase, the production facilities of Cluster 1 can be connected with a pipeline. The production from these fields could act as backup in case of a breakdown, Sarraf said.
Photograph: Amit Dave/Reuters.