At an age when most are content with non-executive assignments, Kamath is taking up an executive role as the first head of the Shanghai-based New Development Bank the BRICS group of emerging market economies is setting up.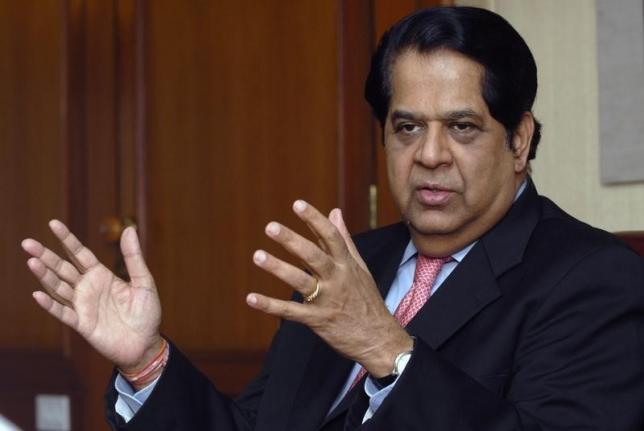 K V Kamath's 44-year-long association (with a break of eight years when he worked with the Asian Development Bank) with the ICICI group is set to end shortly, with ICICI Bank appointing his successor on Tuesday.
Kamath, 67, had joined ICICI Bank (then just ICICI, a financial institution) in 1971 as a management trainee.
At an age when most are content with non-executive assignments, Kamath is taking up an executive role as the first head of the Shanghai-based New Development Bank the BRICS group of emerging market economies is setting up.
He was the managing director and chief executive officer (CEO) for 13 years till 2009 (first at ICICI and then at ICICI Bank), before taking up the non-executive chairman's role. The scorecard has been impressive, recognised by the market.
Under his leadership, the market cap of the lender grew from Rs 796.13 crore or Rs 7.96 billion in September 1997 to Rs 37,027.03 crore at the end of March 2009.
But market cap is only part of the story.
Kamath is best known for spearheading the retail banking revolution in the country.
He introduced India to the EMI (equated monthly instalment) culture - a disruptive change at that time that realised the aspirations of the growing middle-class.
He also introduced another landmark change in the home loan market by making ICICI Bank the first lender in the country to introduce the concept of floating rate of interest for loans in India.
Now, a majority of mortgage loans in the country are taken only on floating rate of interest.
In just three years, the bank became the market leader in retail credit in the country.
Widespread deployment of automated teller machines (ATMs) was another of his ideas.
At a time when there were fewer than 100 ATMs in the whole country, ICICI Bank said it would roll out 1,000 ATMs in the first year.
Later, it expanded the concept of ATM to mobile ATMs by launching ATM-on-Wheels.
The bank also focused on inorganic growth to strengthen its presence across India.
In 2000-01 it acquired Bank of Madura and Sangli Bank in 2006-07 to establish a strong foothold in the south and west.
There are a number of "first-ever" events at ICICI Bank under Kamath's leadership.
For instance, in 1999, it became the first Indian company and the first financial institution from Asia (except Japan) to list on the New York Stock Exchange.
Apart from this, in 2005, it became the first Indian company to make a simultaneous equity offering of $1.8 billion in India, the US and Japan.
It also became the first Indian bank to issue Tier-I perpetual debt in the international markets hybrid. One of his biggest legacies of course is use of technology in banking.
Banks have begun riding on the technology wave in the last few years but Kamath spotted the importance of this disruptive trend way back in 1981.
As a management trainee in the project finance division in 1981, he made the entire leasing office of the financial institution paperless by working on an 8-bit machine with 20 MB of storage running on an 8086 processor.
It was here that he first had hands-on experience on how technology can be used to increase efficiency and cut down costs.
In fact, it was his reliance on technology that helped the bank reach out to rural India. In the urban landscape, he introduced the concept of digital banking way back in 2001 by opening its first self-service banking centre in Pune.
In 2004, he launched mobile banking services in India for consumers who were ready to transact on the go.
Not surprisingly, now more than half of the bank's consumers transact on the digital medium. It has certainly not been roses all the way.
The heady growth under Kamath came under extreme pressure in his last leg of tenure as CEO, courtesy the slowdown following the Lehman crisis.
The management realised that the bank was over-dependent on wholesale funds which was putting pressure on profit margins.
This was also because the share of low cost current and saving account (Casa) was only 26 per cent at the end of March 2008.
The second problem area that emerged was that stress was being witnessed even in the retail portfolio where the bank had lent very aggressively.
Even bad loans had spiked with the corporate segment of the business under pressure.
As a result, his successor had to push the brakes on growth and go back to the drawing board to chart out a different plan. His former colleagues swear by his mentoring capabilities.
Vishakha Mulye, managing director & CEO of ICICI Venture who had worked with Kamath, recounts an instance when he set up a nearly impossible task but then managed to inspire confidence in her to achieve it smoothly.
"In 2007, he cut out the task of raising $5 billion of equity issue."
"When I heard the amount for the first time, it seemed nearly impossible to me. This was the largest issue in the Indian market. But then under his guidance, we not only raised the stipulated amount but did it in just 57 days," she said.
Renuka Ramnath, founder, Mutliples, a private equity firm, is yet another person who counts herself "extremely lucky" for having beeen trained by him.
"His mandates are clean and he does not meddle after laying them out. He will also give you the boundary conditions and then you can use the playground to your advantage. But if you are ever in doubt you can always reach out to him and he will be able to give you an insight into the situation in just two-three minutes which may take other people about a couple of years to arrive at."
Everyone also remembers how hard a taskmaster Kamath was.
In order to ensure that there was no laxity of work, he had introduced the '90-day rule' which meant that all IT projects had to be completed within 90 days or less.
This ensured a smooth and speedy implementation of projects under a strict time frame, bringing efficiency into the system.
Photograph: Reuters