Kia's Seltos SUV has already crossed the 40,000 mark while the slightly pricier MG Hector has sold nearly 13,000 units.
Shubhomoy Sikdar reports.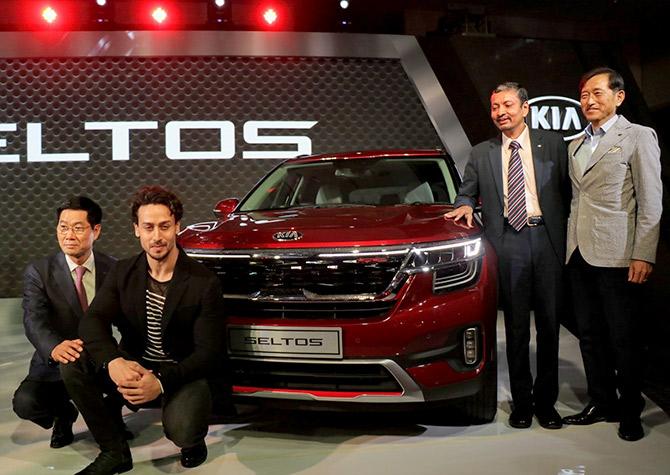 The slowdown hasn't deterred many corporations to look at India as a fertile ground for expansion. How easy or difficult has been life for the new entrants and do the rules of the game change during slowdown?
Those who reject the correlation with some conviction have the long-term argument, but two factors as mentioned in a Harvard Business Review article from last year summarise the catch-22 situation that some brands face: That product launches become the whipping boys in case of earning falls and investors do ask questions if the decision backfires and secondly, launches take a toll on many parts of a company -- from design and development to manufacturing and marketing.
Two of the three major brands to hit the Indian consumer in 2019 -- Kia Motors and MG Motor (the third being the Japanese fashion brand UNIQLO) -- were from the automobile sector which was the flag-bearer of the downturn and yet both have made a mark.
Kia with its Seltos SUV (price range Rs 10 lakh to Rs 17 lakh) has already crossed the 40,000 mark while the slightly pricier MG Hector (Rs 13 lakh to Rs 18 lakh) has sold nearly 13,000 units.
Gaurav Gupta, chief commercial officer, MG Motor, attributes the success of the flagship MG Hector to its compelling ownership proposition.
"The industry-first five-year warranty in this segment along with very attractive prepaid maintenance packages starting at Rs 8,000 for three years." Gupta sent a written reply to a set of questions on the company's foray into the market, but had a brief put down for the slowdown question: "We are not impacted by the industry slowdown, as such."
Arvind Singhal, chairman and managing director of the advisory firm Technopak, explains what makes a brand somewhat immune to a slowdown in an economy and why he doesn't see a correlation.
"Consider the case of Kia Seltos which is one of the more successful launch stories of this year. Lacking a certain pedigree, this is a company which may not be considered as the most aspirational brand and yet, it has managed to deliver incredible numbers in just three months," he says.
The success, according to him is not because of big-ticket marketing or advertisements or better dealership arrangements but primarily due to the product itself: A smart looking vehicle for the smart tech-savvy customer.
He contrasts it with the approach of established players who did not make life difficult for the new entrant. "Why did some of them go ahead and launch good but boring products?"
Brand thinker and marketing practitioner Harish Bijoor has a different viewpoint on the possible correlation. "All launches need ideal market conditions, that is, the market being positive because the facilitation environment for all marketing is the economy. If the economy is dull, the market response will be tepid and therefore a lot of launches have been deferred waiting for a good time."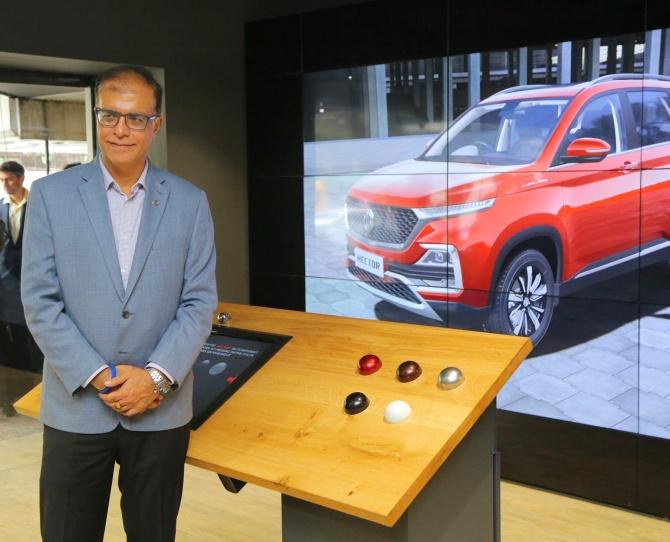 Bhaskar Bhat, who retired recently as Titan's managing director after 33 years of service in the company where he saw several muted phases and cyclical reversals and continues to be on the board of the company, has this interesting take: "If you ask me, there is a negative correlation. In fact, we in Titan have thrived despite the slowdown and sometimes to overcome the slackening of demand. Our categories are such that we compete for the wallet and we have to get whatever we can through innovation."
"When it comes to new product, people are always willing to consider spending," adds Bhat. "So a new product either creates fresh demand or certainly diverts consumers towards brands and products.
Besides quality of the product, both Singhal and Ashita Aggarwal, professor, marketing, at Bhavan's SP Jain Institute of Management And Research, advocate sustainable differentiation.
"Companies should not put in a lot of money because the returns on investment are low. You first identify which are your strength areas where you have a better distribution set up. Only then can you build on the equity you have created in those markets, get a quick feedback on their innovations, so that you are not waiting just for increasing the size of the market," says Aggarwal.
This lesson is seemingly well incorporated in the approach of UNIQLO which opened its first store in India in October.
The company, which has said in the past that the business model involving the import of apparels and displaying them in high footfall areas comes at a premium, has announced that the next two stores to come will also be set up in the Delhi-NCR area before it decides to branch out further.
Rutu Mody-Kamdar, founder-director, Jigsaw Brand Consultants, has three key tips for debutants and even veterans who find themselves on a tricky wicket: "A brand should actually stand its ground and not compromise on its core proposition and not go for mindless discounting. Importantly, rethink your strategy as when you have a slower pace of demand and when your comfort zone is not comfortable anymore. This is the time when you push yourself into a new territory."
Some such as Gautam Kaushik -- the CEO and MD of multi-brand loyalty programme PAYBACK which is linked to an array of product and services brands -- say that focus and clarity are key factors in such scenarios.
"Times like these require you to be more focused. Having said that, the requirement and demand for these products and services is not going to go down. There could be fundamental shifts in certain products markets and brands which can play that fundamental shift to their advantage would definitely prosper in the long run," says Kaushik.
"A brand which is clear about the customer base it would be chasing and is not trying to play at different ends would sail through."