'Kerala isn't as dependent on agriculture like Bihar or Odisha or even other southern states.'
'Economic losses would not be too intense, unlike other states.'
'The floods could, at best, impact India Inc's earnings for a quarter or two.'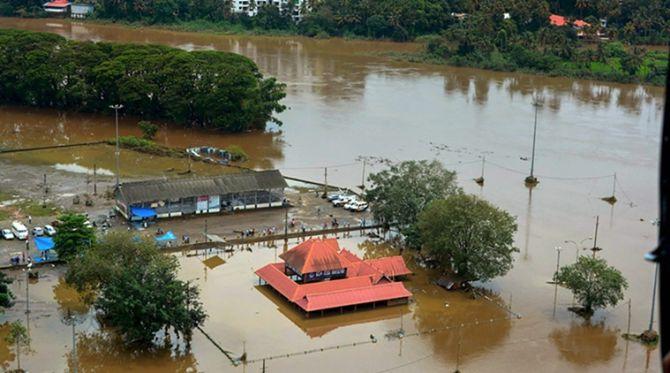 The floods that have ravaged Kerala are likely to have their impact on India Inc.
A look at the exposure of Indian companies to the state suggests that at least one in five BSE500 companies is likely to be impacted by the floods, which could in turn have a bearing on their September quarter (Q2) results.
The impact and its longevity, however, are yet not known but experts say among the sectors the most impacted are tyre and automobile, which are the first in line, given Kerala's monopoly in the rubber industry.
Banks, general insurance and consumer discretionary and several other mid- and small-cap names such as Cochin Shipyard and V-Guard too may feel the brunt.
R Sreeshankar, head of research, Prabhudas Lilladher, said while Kerala accounted for less than 5 per cent of India's population, it is a highly consumption-oriented state.
"Hence, it will take time to assess the extent of the damage. While there will be incremental business opportunities due to replacement demand, the timing of that is unknown," he said.
G Chokkalingam, managing director, Equinomics Research and Advisory, agreed with this view, and added that Kerala isn't as dependent on agriculture like Bihar or Odisha or even other southern states.
"Economic losses would not be too intense, unlike other states," he said.
Both concur that the floods could, at best, impact India Inc's earnings for a quarter or two. Here's what experts and analysts feel about the impact on various sectors and companies.
Tyres
Natural rubber makes up for 40 per cent of input costs for tyre manufactures such as Apollo Tyres and MRF.
While they are likely to pass on their cost pressures to auto makers, the recent trend of declining raw material cost as percentage of revenue may reverse in Q2.
Apollo Tyres witnessed 400 basis points year-on-year decline in the raw material cost proportional to its revenues. That could change.
"Rising crude oil prices compounds the problem, especially for synthetic rubber prices," says Mayuresh Joshi, fund manager, Angel Broking, adding that the cost of derivatives such as nylon tyre cord and carbon black too may be impacted.
Automobiles
As tyres account for 5-10 per cent of total raw material costs, an increase in overall cost structure should be anticipated, particularly in Q2.
Analysts believe auto companies will pass on some of the costs and absorb the rest, given its possible impact on vehicle demand. Nonetheless, it would put pressure on margins.
However, they rule out production disruption due to the floods.
"Since these floods coincide with monsoon, auto industry will be equipped to handle some short supply in tyre production," says Chokkalingam.
Financials
Federal Bank and South Indian Bank derive 34 per cent and 41 per cent of their loans from Kerala.
"Apart from agriculture loans, since even small businesses were disrupted, loan losses may be elevated and recoveries stretched in Q2," Sreeshankar cautions.
Muthoot Finance and Manappuram Finance, which draw 15 per cent of their gold loan business from Kerala, too are exposed to similar risks and the impact on their financials could be more adverse.
Listed general insurance players, mainly New India Assurance and ICICI Lombard for whom Kerala is a key south Indian market, could see higher claims in the subsequent months, while Bajaj Allianz too may see elevated claims, say analysts.
FMCG
While most players could witness disruption in demand and restocking, Marico and Jyothy Laboratories are expected to take a further beating.
For Marico, the flood could hurt gross margin, as Kerala is one of the major states for supply of its key raw material - copra, contributing about 30 per cent of its supplies.
Besides, analysts expect Parachute's sales to be disrupted by about 20 per cent, which is contributed by the state, impacting Marico's top-line in value and volume terms.
"Jyothy Labs too could see some revenue pressure as it has high-teen sales contribution from this state," says Nitin Gupta, analyst, SBICAP Securities.
Cement
As the state-owned Malabar Cement is the dominant player in Kerala, most listed players could only bear an indirect impact.
Among the latter, south-focused firms such as India Cements and Dalmia Bharat suffer, while Ramco Cements, which derives a majority of its business from Kerala, could be affected the most.
Others
While the shipyard division of Cochin Shipyard may not see much disruption, the ship repairs (accounting for half its capacities) could be affected.
Likewise, stabiliser manufacturer V-Guard, which draws over half its business from southern states, Kerala being a key market, may see a dull Q2.
Also, even as foam based mattresses are gaining popularity, coir (largely procured from Kerala) could be in short supply affecting the production cycle of companies such as Sheela Foam.
With inputs from Ujjval Jauhari
Photograph: PTI Photo