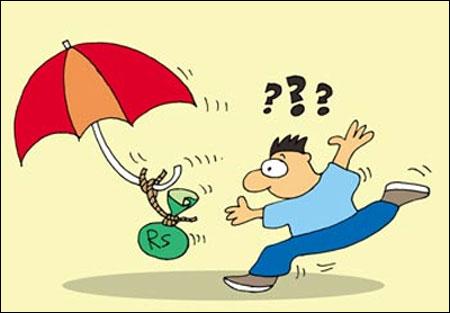 When agents change jobs, customers depending on them for their premium payment, claim settlement and tax filing face the music, reports Chirag Madia.
Illustration: Uttam Ghosh/Rediff.com.
For decades, policyholders have been dependent on their local insurance agents to pay premiums. Usually, this agent would be like a family friend who would come every year, dutifully collect the premium and even resolve problems with the insurance company, often over a cup of tea and snacks.
While this still happens in many cases, things are changing fast.
With more insurance companies -- over 20 in the private sector -- entering the fray, the churn in the insurance industry has been massive.
According to industry estimates, 20-25 per cent of agents shift jobs every year. Data from the Life Insurance Council show that the total individual agents stood at around 2.08 million at the end of March 2017, which rose to 2.1 million in September.
According to a senior human resource manager from a top general insurance company, the attrition rate in the industry can be as high as 30-40 per cent, in good years.
"Within a week of issuing annual increment letters, at least 5-10 per cent of our agents resign. We have to constantly be on our toes and make offers to agents from other companies," said the manager.
While the industry has its own headache due to attrition, the policyholder is the one who finds himself left in the lurch.
In such situations, there are chances of a delay in premium payment, especially if you are dependent on the agent and may not be even aware that he has changed his loyalty or, even left the industry. This can lead to the policy getting lapsed -- something that can hurt you in the long run.
There is also a lot of dependence on agents during claims and for receiving receipts on time for tax purposes.
No wonder, while insurers, on their part, are working to ensure that policyholder are not 'orphaned' because it hurts a key parameter in their performance, that is, customer retention, policyholders on their part need to be alert as well.
1. Steps by insurance companies
Insurance companies have taken several steps to reduce churning and ensure that there are fewer 'orphan' policyholders in their company.
An orphan policyholder in the life insurance sector is one whose agent is no longer working for the insurer.
Most companies send reminder e-mails and SMSes directly to the customer. Then, some companies actively follow this up with telephone calls.
Max Life, for one, has a dedicated customer advisory team or CAT.
"A relationship manager is assigned to existing customers in case their agent exits or joins some other company, to ensure uninterrupted services," said V Viswanand, senior director and chief operations officer, Max Life Insurance.
Aditya Birla Sun Life Insurance (ABSLI) has a similar policy.
In case of exit of an agent, the customer is immediately assigned to an active agent in the system. "Preference is given to senior advisors to make sure that the customer engages with experienced agents. ABSLI also follows a structured engagement process with its customers to ensure policyholders have continuous access, information and a line of communication open with the company," said Anil Kumar Singh, chief actuarial officer, ABSLI.
2. Steps policyholders should take
Policyholders should also set up their own reminders and start paying their premiums online or at the nearest branch. In case a policy lapses, they need to revive it.
"The policyholder can proactively renew a policy by keeping track of premium renewal dates and ensuring timely payments. Customers can choose to pay the premium using the monthly mode. In such cases, it is wise to pay renewal premium by giving standing instruction to the bank. This ensures the policy remains in force," added Rishi Srivastava, senior vice-president and chief of proprietary channels and product and marketing, Tata AIA Life Insurance.
"In today's time, there is not much a policyholder can do if his insurance agent exits the profession or joins some other company. But, they can certainly do their due-diligence before buying the policy, and always looks for agents who have been doing the business for several years," said Suresh Sadagopan, founder of Ladder7 Financial Advisories.
Policyholders shouldn't buy policies through agents who have been in the business for the past six months or a year, as their probability of exiting or joining another company is high.
However, while selecting a good and experienced agent is quite important, it is best to take matters into one's own hand and keep records of dates of policy renewal and other details, so that matters do not get out of hand.