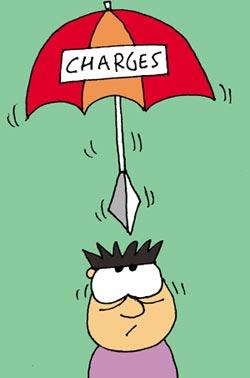 Some of their tactics would put a snake oil salesman to shame, says Investment advisor Harsh Roongta
Illustration: Uttam Ghosh/Rediff.com
The recent campaign against an indiscriminate increase in bank charges and unfair loan pricing by banks has generated more than 200,000 signatures, but has elicited very little response from either the Reserve Bank of India (RBI) or the government.
This is mostly because the government is following the regulator's lead in this regard of studiously ignoring the issue till enough pressure is built, and then, making some token concessions that do not solve the issue in any manner.
Here is a gist of the arguments that the government must have heard about why this is an unimportant issue and my counterpoint on why the government should be worried about this, especially if they want everybody to start using the banking systems for all transactions.
High bank charges don't affect the poor as they have access to Jan Dhan accounts with no charges.
The argument is incorrect on both counts.
The so-called access to Jan Dhan accounts was while the Prime Minister's Office was focussing on it. Now banks aren't opening many new Jan Dhan accounts.
With the bank reluctant to open such accounts, a customer is unlikely to be able to open one unless s/he herself/himself is determined or is accompanied by a determined mentor.
Also, there are charges in Jan Dhan accounts after the first three-four free transactions a month.
So, if the poor depositor uses the Jan Dhan account for all small expenses, and many times a month, s/he will end up paying a slew of charges.
High bank charges very much affects the poor, and in fact, will inevitably lead to people falling out of the banking net.
And that, too, after having been brought in at a high cost and with much fanfare.
Why open an account, if you are not willing to pay the charges.
This pre-supposes that the charges were known at the time of opening the account.
A bank, unilaterally, raises charges or change rules on minimum balances imposing high charges on already existing bank accounts.
Okay, move your account to another bank. This is not so easy.
For many, existing accounts are linked to incomes such as receipt of pension, other incomes and expense payments such as insurance, electricity, rent, etc, and all this will need to be done all over again, including some with government organisations with the attendant hassles.
All talks about making bank accounts portable have been just that -- talk.
Banks are completely transparent about charges. Again, not true.
Take the example of charges imposed surreptitiously by sending an email and imposing the charges by default, if the consumers do not opt out of these charges.
Borrowers can shift free of cost if they find loan rates expensive.
What this means is that banks are allowed to overcharge their borrowers because few vigilant customers can shift their loans free of cost.
It also completely ignores the barriers that banks create for porting your loan. Some of their tactics would put a snake oil salesman to shame.
The government ignores this constituency at its own peril.
After all, the bank customer is a voter, too.