Most industry players in Tirupur feel that though the idea of GST is good, the problems are largely due to its poor implementation. Refund delays, withdrawal of incentive schemes make Made-in-Tirupur products costlier by 10-15 per cent, say entrepreneurs.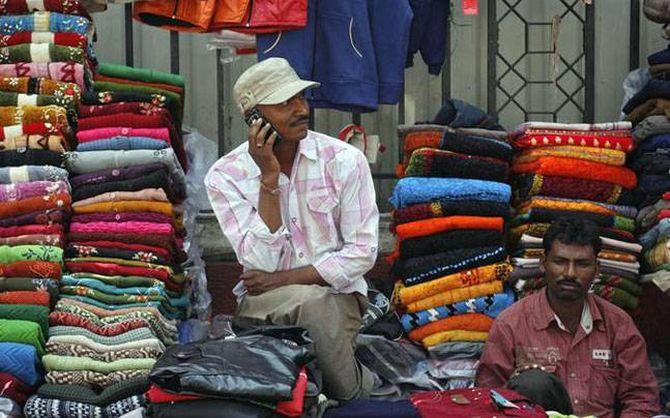 Eighteen months ago, the narrow roads of Khaderpettai market at 'Dollar Town' Tirupur in Tamil Nadu was vibrant. This is a stark contrast to what it is today.
Then, mini trucks and vehicles carrying garments shuttled between export units and shops here. Customers, mainly road side-vendors and small retailers, used to sit inside these shops negotiating with the owners for bulk orders.
Now, the roads are empty and the shops deserted. A few of the shop owners have decided to close shop or foray into other businesses.
The story is similar on the other side of the town where hundreds of export units cater to major brands globally.
While large and medium sized enterprises put up a brave face while struggling to survive, several micro enterprises have shut shop.
Till few months back, S Raja (name changed) used to run four units with 200 seats each. He now manages only one of the units. Senthil once had close to two dozen customers but today, he has just six. He expects this number to come down to two sooner or later.
At Khadarpet market, S Ravi, a shopkeeper, used to do business worth of Rs 100,000 a month. He now notches up barely Rs 40,000 in the period.
Business has dropped by almost 50 per cent in this market from around Rs 7,000 crore a year. An office-bearer of the Khadarpet Association puts it succinctly: "The buyers are not coming."
MG Kumar, owner of SKM Tex and an officer bearer of Khadarpet Association, claimed that over 300 shops have closed in the last six months.
Once, this market housed nearly 1,200 shops, selling branded and cotton clothes for exports.
But somehow they did not make the international cut.
Many in Tirupur attribute the business downturn to roll out of GST last July and the implementation issues.
While OS Manian, the state handlooms and textiles minister, recently told the state assembly that garment exports from Tirupur fell by Rs 16,000 crore in 2017-18 year. But data provided by the Tirupur Exporters Association (TEA's) shows that export dropped by around Rs 2,000 crore.
While both defer on the data front, they agree that GST has taken a toll on micro enterprises.
According to estimates, around 10-15 per cent of the units have shut shop, resulting in 10,000-15,000 jobs losses in the last six months.
According to local reports, five entrepreneurs have committed suicide, including a 31-year old women by the name S Suganti.
'Good tax, poor implementation'
Most industry players in Tirupur feel that though the idea of GST is good, the problems are largely due to its poor implementation.
TEA's president Raja M Shanmugam said of the 6,500 units, around 80 per cent are MSMEs and most of them are not very computer-literate.
Instead of hand-holding these class of business, the government thrust the decision without testing the system, he said.
Another issue has been related to refund and withdrawal of incentives that resulted in cash-crunch and Made-in-Tirupur products getting costlier.
Many businesses lost orders to other countries like Bangladesh, Vietnam and Sri Lanka. Products from Tirupur are now costlier by 15-20 per cent, claimed entrepreneurs.
"It was like a one-way traffic," said Shanmugam. He estimated that Rs 1,500 crore in refunds are pending. V Sathyabama, member of Parliament representing the Tirupur Lok Sabha constituency, agreed that the problem with the GST-refund process has been the cause for the woes of MSME units.
Another grudge that small units have is that big companies are quick to get refunds as they can afford to hire chartered accountants and other professionals.
Photograph: Reuters