Of the 23 million visas processed by VFS in 2017 calendar year, one fifth were in India, making it the company's biggest market.
Illustration: Uttam Ghosh/Rediff.com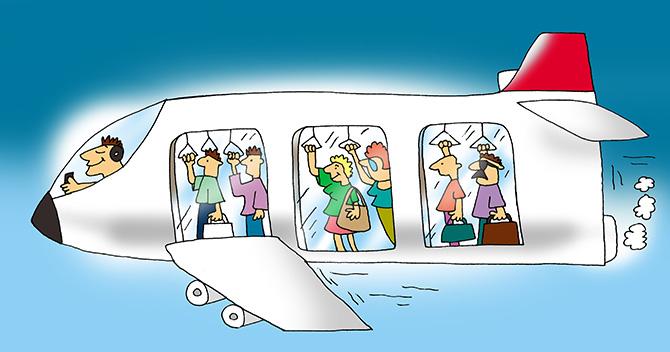 The rising number of Indians travelling overseas is making India a sweet spot for VFS Global, the world's biggest visa processing firm.
The Dubai-headquartered company, which started its journey from Mumbai, seventeen years ago, holds a 49 per cent share in global visa processing industry.
India, its biggest market is clocking a double-digit growth.
"India has seen an exponential growth in outbound travel, not only in the tourism sector but also in migration, people going out to work, do business. Student traffic has gone up steeply.
"The infrastructure that these embassies had in India could not have absorbed this kind of growth. Moreover, their presence was only limited to metro cities," Zubin Karkaria, chief executive officer of VFS Global told Business Standard.
The outbound travel from India is growing at a rate of eight-ten per cent a year.
Karkaria had conceptualised the idea of a visa processing firm in 2001 when he was working for Kuoni a global travel firm.
He recalls that on many occasions he had to postpone the tour plans of his clients due to delays in grant of visa.
"In Mumbai, people used to queue for US visa the night before. It was felt that the embassy or the visa officer should focus more on decision making and not on the administrative part of checking the form and ensuring that documents are in order.
"If suppose you have ten minutes to decide on every visa and of this, you spend most of the time on seeing the documents your decision making time is squeezed," said Karkaria, arguing that there was a need to bring efficiency in visa processing while ensuring convenience for the applicants in terms of reach and timings.
The US Embassy in India happened to be the company's first client.
VFS Global now works for 45 countries in India, catering to the rising overseas travel needs of Indians.
Of the 23 million visas processed by VFS in 2017 calendar year, one fifth were in India, making it the company's biggest market.
This means the firm processes more than 13,000 visas every day for Indians travelling overseas.
India is not just the biggest volume market for VFS, it is also a large base for the company.
Of the 9,000 plus employees that it has in 137 countries, about 2,500 happen to be in India.
"India is my backbone. All the key functions that support our business are in India, including technology, information services, physical services, etc. India is a base for research and technology for us," Karkaria.
VFS Global claims to own a 49 per cent share in global visa processing market.
"We process about 23 million visas a year globally while my next competitor would be at four million. Globally, there are seventy odd players in the sector," he said.
Karkaria says nobody around him believed in the idea back in 2001.
"People used to say embassies will never allow this process to be outsourced. It was good that nobody believed in the idea then and we were the only one to start investing in it for initial seven-eight years," he adds.
Today, VFS is focussing on taking its service to tier III and IV Indian cities where people have to travel to metro cities to secure a visa.
"We try to increase capacity at a rate higher to the growth in travel. We have never been in a capacity crunch as we have always invested ahead of time," said Karkaria.
He says it is not a simple task to deal with sensitive information of millions of applicants every year and the company had to innovate to ensure data protection and privacy while remaining competitive in its services.
"Globally, we invest $25 million every year in technology alone. In some visa processing tenders you make money and in some you don't.
"But at VFS Global, visa processing is our bread and butter and we continue to expand".