Companies are sending representatives to Bihar, UP, Jharkhand and Odisha to persuade workers to join them.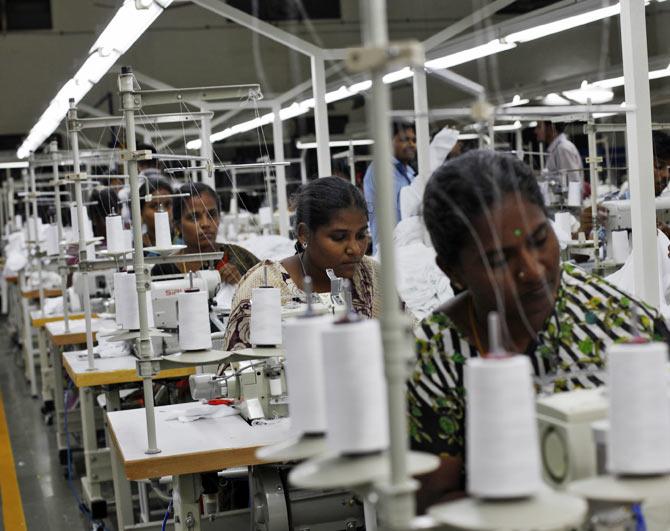 An executive with the human resource department of Vardhman Textiles makes frequent trips to Bihar, Jharkhand and Odisha to hire workers for its seven factories in Punjab.

He interacts with non-governmental organisations, meets village pradhans and sometimes tries to reach out to workers directly.

This approach has taken care of at least 25 per cent of the company's incremental worker requirement in the past few years.
Another 25 per cent of the requirement is met by a workers' referral programme started a couple of years ago. The company has asked its existing workers to bring in people they know. A worker receives a bonus of Rs 500 for every person hired anywhere in the state.
These are two of the many initiatives by industrial units in and around Ludhiana to get around an acute labour shortage, following a sharp drop in migration from Bihar, Uttar Pradesh, Jharkhand and Odisha.
Vardhman Textiles, an integrated player with interests in fibre, yarn, fabric and garments, has 26,000 employees nationwide. The company employs nearly 10,000 workers in Punjab and needs at least 1,500-2,000 workers every year to take care of attrition and expansion.
According to industry estimates, the annual incremental requirement of workers in the city is 50,000-100,000, depending on the business environment.

Senior executives of many of the 10,000 such industrial units say most of them have suffered in the past five to six years because of the labour shortage. "I won't say that migrant workers have stopped coming. But the rate has dropped considerably," says Sandeep Jain, executive director of Monte Carlo Fashions.
The drop in migration is largely due to the rural employment guarantee scheme launched a few years ago. Executives also say that increasing economic activities in eastern states have rendered migration to industrial locations such as Ludhiana less lucrative.
"The attrition rate among workers has gone up considerably. Workers are also keen on skill enhancement training. It is a welcome development. Also, there is a tendency, even among those who were reluctant earlier, to explore opportunities abroad," says D L Sharma, director, Vardhman Textiles.
Having seen their expansion plans being put on hold, these companies are now coming out with new ways to hire and retain workers. Monte Carlo Fashions, for instance, has started providing accommodation to 50 per cent of its skilled workers and is set to accommodate more. Vardhman Textiles has built a hostel for women inside the campus and offers accommodation to male workers in nearby locations. It also runs buses to villages to bring workers to factories on time.
"When workers stop coming to work, you have to persuade them. And, you have to offer certain incentives," says S K Rai of Hero Cycles.
Despite these measures, there are months when companies suffer from large-scale absenteeism. Managers of many companies say migrant workers leave for chhath, a popular festival in Bihar and parts of Uttar Pradesh celebrated mostly in November, and again in the months immediately preceding the kharif sowing season in April-June.
To fill this gap, the companies have started hiring young women from rural Punjab and Himachal Pradesh.
"Short-term requirements are met by hiring women. But we still need migrant labour as women, though equally competent, prefer not to work at night. And there are still some jobs that only men can do," says an executive with a large company.
Migrant workers are still key to operations in this industrial city of Punjab. Some companies are exploring options like starting training centres in Patna and Ranchi in partnership with local NGOs.
"What we intend to do is offer a month's training to workers free. And depending on their progress, we will relocate them to our industrial units," says an executive with yet another company. All this comes at a considerable cost.

Most companies have seen wages doubling in the last five years. But it is still better than running at low capacity. "Automation is possibly an answer and some companies have gone for it. But you still need a large number of workers, especially in the kind of units that are operational around this area," observes Rai.
Working to attract workers
Companies sending representatives to Bihar, UP, Jharkhand and Odisha to persuade workers to join them
Workers being offered freebies such as train tickets and mobile phones
Some companies planning to start training centres in other states to attract workers
They have introduced referral programmes
Workers being given subsidised accommodation
Paucity of workers in certain months have forced companies to hire women from rural Punjab and Himachal Pradesh