More flyers mean longer queues at airports and the CISF fears unless there is a massive ramp-up in hiring, Indian airports may turn chaotic and lead to unhappy passenger experience.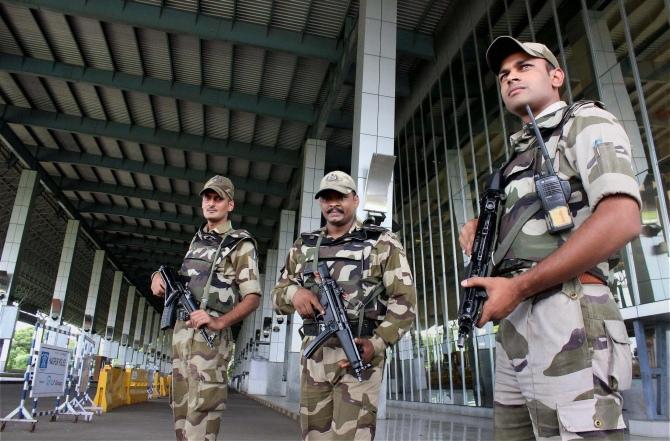 In October, the Central Industrial Security Force (CISF) concluded a month-long passenger feedback survey across major airports. Most passengers were satisfied about the services, except the waiting time for security inspection.
The exponential growth of air passengers has resulted in a challenge for the understaffed agency, which maintains security at airports.
Take, for instance, the case of Delhi Airport, the busiest in the country. In 2017, it handled around 56 million passengers, a growth of 55 percent from 36 million in 2013. But the number of CISF personnel deployed at the airport remained stagnant at 4,300.
"There is an urgent requirement to expand, both in manpower and technological advancement, for the force," O P Singh, director general, CISF, told Business Standard in an interview.
Singh said according to internal projections done by the force, it will require an additional 19,000 personnel in the next five years just for aviation security. The CISF, which is responsible for guarding the government's industrial establishments, currently has 27,000 personnel for aviation security and is stationed at 59 of 98 airports.
"For the first time, a five-year projection has been done by the force keeping in mind the fast growth in air traffic. We have submitted the report to both the home and civil aviation ministries," Singh said.
What has added to the force's worry is the tendency of airlines to club flights during peak hours. Airports in metro cities are already overcrowded and airlines are finding it difficult to get slots, often clubbing flights during the morning and evening peak hours.
More flyers mean longer queues at airports and the CISF fears unless there is a massive ramp-up in hiring, Indian airports may turn chaotic and lead to unhappy passenger experience.
"While passenger traffic has increased across airports, it is abnormally high during peak hours in the morning and evening. This has led to undue pressure on our boys for faster clearance," Singh said.
The pressure is only going to increase as new airports become functional, pushed by the Centre's regional connectivity scheme. While currently, nine of the 45 airports under the regional connectivity scheme are manned are manned, it is going to increase in the near future.
"We recently started functioning at Shirdi; Vijayawada is also in the offing," Singh said.
With increasing challenges, the force is now increasingly embracing modern technology which may reduce the dependence on manpower. The biometric check-in procedure, when implemented, will reduce the burden on the force, which has to manually handle the process now.
"We are very bullish about use of technology. A simple decision like doing away with baggage tags increased efficiency without compromising security. New security threats are also emerging everyday but we are getting updated for that," Singh said.
The CISF is currently experimenting with a body scanner at Delhi airport and other equipment such as shoe scanner and liquid scanner; it has proposed to set up an integrated aviation security training institute on the lines of its counterpart, the Transport Security Administration (TSA) of the US.
The centre will be used for research and analysis related to aviation security and staff would be trained in the latest technology at the proposed facility.
"Case studies on aviation security like hijacking and sabotage, can be studied at the centre and used to test new technologies and security gadgets, which can be introduced in aviation security," Singh said.
Experts say there is an urgent need to develop infrastructure to bring it on a par with growth.
"In a rapid growth environment, supply side constraints become a serious challenge; little is being done institutionally to prepare for this high-growth future," aviation consultancy CAPA said.
Photograph: PTI Photo.