MEIL has become one of the fastest growing and most successful infrastructure and engineering, procurement, and construction companies in the country in recent times.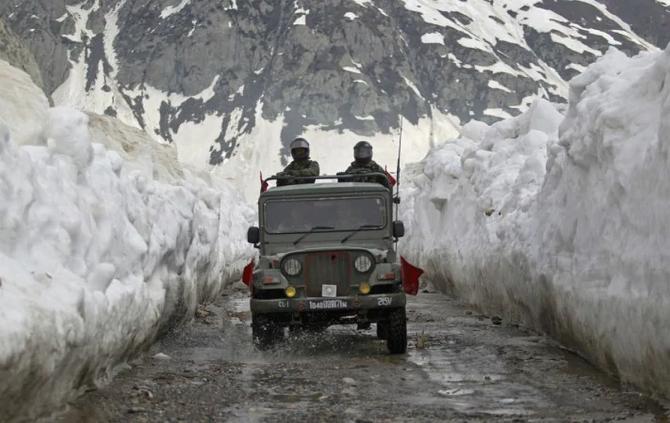 When Hyderabad-based Megha Engineering & Infrastructure (MEIL) recently announced it bagged a Rs 4,509.5-crore tunneling contract for the prestigious Zojila project in Jammu & Kashmir, not much was known about the company.
However, it has become one of the fastest growing and most successful infrastructure and engineering, procurement, and construction (EPC) companies in the country in recent times.
The firm's revenues have nearly quadrupled in the past five years from Rs 5,200 crore in FY14 to Rs 20,300 crore in FY19.
In the same period, its net profit jumped nearly 6x to around Rs 2,800 crore in FY19 from around Rs 500 crore in FY14.
This makes MEIL India's largest construction and engineering company after Larsen & Toubro (L&T).
L&T's infrastructure division reported revenues of around Rs 73,000 crore in FY19 and profit before interest & taxes (PBIT) of around Rs 5,400 crore.
L&T Infrastructure division revenues doubled between FY14 and FY19, against 4x rise in MEIL's during the period.
MEIL is, however, growing at a much faster clip due to its lower base.
The other reason is also the large number of projects the company has undertaken recently.
Led by PP Reddy as chairman and son-in-law Krishna Reddy, who is managing director, MEIL started off as a small fabrication unit in 1989.
It is now in the space of power, irrigation, drinking water, roads and hydrocarbons.
It has Rs 4,358 crore worth of contracts in the Rs 55,548-crore Polavaram multipurpose project.
The company won headworks and the hydropower station contract in a reverse bidding after the Andhra Pradesh government cancelled the earlier contract.
MEIL took up the project for Rs 4,358 crore, which was 12.6 per cent lower than earlier bid.
MEIL was the sole bidder in the second round.
The Polavaram project will supply water for irrigation to 720,000 acres.
It will also help generate 960 Mw hydropower and lift 80 tmc of water to the Prakasam Barrage on the Krishna river.
Another project, which it completed in 2017, was of the Western UP Power Transmission Corporation (WUPPTCL), involving the construction of seven substations and transmission lines for a total length of 1,116 circuit km.
The project was executed on a build-own-operate-transfer (BOOT) basis with a maintenance period of 35 years.
WUPPTCL's project was completed in 2017 at a cost of Rs 4,150 crore.
Andhra Pradesh and Telangana account for around 59.6 per cent of its unexecuted order book.
In terms of sectors, irrigation-based orders along with drinking water orders accounted for nearly two-thirds of its order book.
The company has now diversified into oil and gas as well as power sectors.
The company has also made acquisitions to foray into the defence sector and plans to set up a thermal power plant.
MEIL annual finances suggest that it has grown without compromising its profitability or balance sheet unlike many of its peers in the EPC industry.
The company's operating margins improved from 11.7 per cent in FY14 to 16.6 per cent in FY19.
In the same period, its profit before interest and tax (PBIT) margins were up nearly 300 basis points from 11.3 per cent to 14.2 per cent.
One basis point is one-hundredth of a per cent.
In comparison, L&T reported a PBIT margin of 7.4 per cent in its infrastructure division in FY19, down from 9.7 per cent in FY14.
MEIL has one the best debt servicing ratios in the industry with interest coverage ratio of 20x in FY19, according to calculations by Business Standard.
In other words, its operating profit or earnings before interest, taxes, depreciation, and amortisation (Ebitda) in FY19 was equivalent to 20 times its annual interest liability.
This is attributed to its strong cash flows from operations, alleviating the need to borrow.
"MEIL has been reporting strong cash flow from operations, majorly on account of cash flows from power transmission projects along with the stringent cash flow management," writes an analyst at India Ratings in its latest rating report on the company.
The company reported gross debt to equity ratio of 0.9x in FY19 down from 2.1x five years ago, according to calculation. Its return on equity - a key measure of profitability and capital efficiency - was 27.4 per cent which is quite high by industry standards.
The numbers, however, suggests the company has now hit a growth hurdle after a fast-paced growth between FY14 and FY18.
According to data from India Ratings, MEIL reported revenues of Rs 18,040 crore in FY20 (provisional), marginally down from Rs 18,320 crore in FY18.
In the same period, its net profit was down around 20 per cent to Rs 2,580 crore.
According to India Ratings, MEIL's revenue visibility remains strong, with a closing order book of Rs 88,080 crore as of March, equivalent to 4.9x of its FY20 revenue.
The company booked fresh orders worth Rs 30,870 crore last fiscal year.
Photograph: PTI Photo