Under the EB-5 visa programme you can become a US citizen provided you invest $500,000 in an approved project and create targeted employment.
But only 700 Indians can do so each year.
Tinesh Bhasin reports.
Illustration: Uttam Ghosh/Rediff.com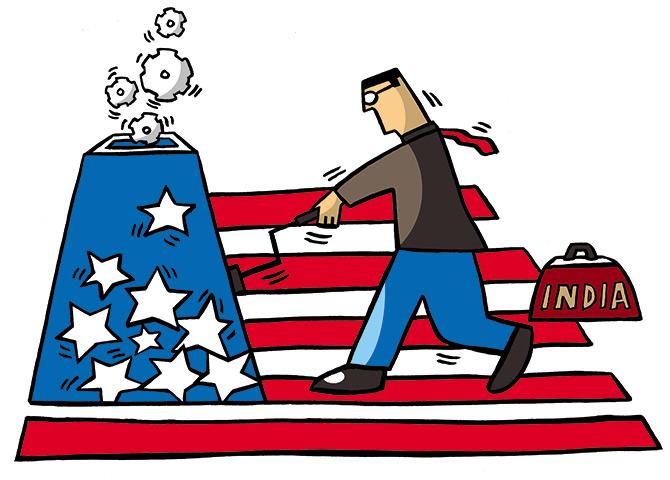 With the US visa laws getting stricter, more Indians are opting for the EB-5 visa programme, which allows an individual to become a citizen by investing $500,000 in an approved project.
While the EB-5 programme is an easier route for emigrating to the US, there have been regular frauds in the past, and investors risk losing their money as well as citizenship.
Lawyers and consultants say that the EB-5 visa programme is all about investing in the project that has the surety of getting completed and creating jobs in the areas around it. But choosing such projects can be daunting.
"An investor gives money to an entity called regional centre, which invests money in projects. But the financing of projects by regional centres is done through complex financial structures. Many a time, an investor may not even get all the documents unless he asks for them," says Mark Davies, global chairman, Davies & Associates, an immigration law firm.
An investor has little choice but to rely on lawyers, consultants or advisors when it comes to EB-5 projects who understand state-wise real estate laws and can evaluate the finance structures to recommend whether the investor should go for a project or not.
"Don't rely on Indian partners of the companies abroad. Instead, opt for professionals who are licensed by the US government and have a track record," says Vivek Tandon, founder and CEO, EB-5 BRICS.
The lawyer or advisor should also have experience in handling Indian cases.
When remitting money abroad, the advisor needs to ensure that it complies with the Foreign Exchange Management Act (FEMA).
The FEMA regulations, for example, don't allow individuals to remit abroad funds that are borrowed from banks.
Best is to ask for referrals of cases that the advisor or lawyer has done in the past.
Talk to those individuals who have already been through the process.
Preferably, avoid advisors or lawyers working with regional centres and receiving a commission from them.
Ask your advisor in writing whether it receives compensation in any form from regional centres, developers or their parties related to them.
A US-licensed fund, lawyer or consultant will need to reveal it.
There also are a few checks that an investor should do independently. Choose a regional centre that has a track record of completed projects.
Many regional centres and developers get their projects evaluated from third party independent sources. Ask for such evaluation reports.
"If the project developer is listed, there will be much more transparency. There is a better likelihood of the project getting completed," says Rogelio Caceres, co-founder and chief commercial officer, LCR Capital Partners.
Immigration lawyers and advisors say that more Indians are looking at the EB-5 programme after the Donald J Trump administration tightened visa laws.
Most applicants include individuals who were already working in the US and are now affected by changes to the visa laws, and also Indian students who are finding it difficult to get a job after graduating from US colleges.
An EB-5 visa programme primer
What is the EB-5 visa programme?
EB-5 visa programme has two options. One, an individual can invest $500,000 in a project in a targeted employment zone through an entity called regional centres.
Two, an investor can start a venture by investing $1 million.
The investments should create more than 10 full-time jobs in the US within two years.
It allows a family with children under the age of 21 to become citizens.
Is there any cap on the number of applications from each country?
A total of 10,000 visas are granted each year with a 7 per cent cap for each country. It means, from India, a maximum of 700 applications can be approved each year. Except for China, no nation has ever breached this cap.
What is a regional centre?
A regional centre is defined by the United States Citizenship and Immigration Services as an economic entity, public or private, which is involved with the promotion of economic growth, improved regional productivity, job creation and increased domestic capital investment.
It is an entity that facilitates the pooling of capital from multiple EB-5 investors into various multimillion dollar projects.
What are the other conditions for availing green card and then citizenship?
The investment must be an 'at-risk' investment for the investor to get a Green Card.
To get US citizenship, the investor must have stayed in Creen Card status for about five years and meet certain physical presence requirements (2.5 years out of the five) before s/he can be eligible to apply for citizenship.