Unlike last year, the state has imposed a cap on what it will pay growers of major crops under the scheme
Illustration: Uttam Ghosh/Rediff.com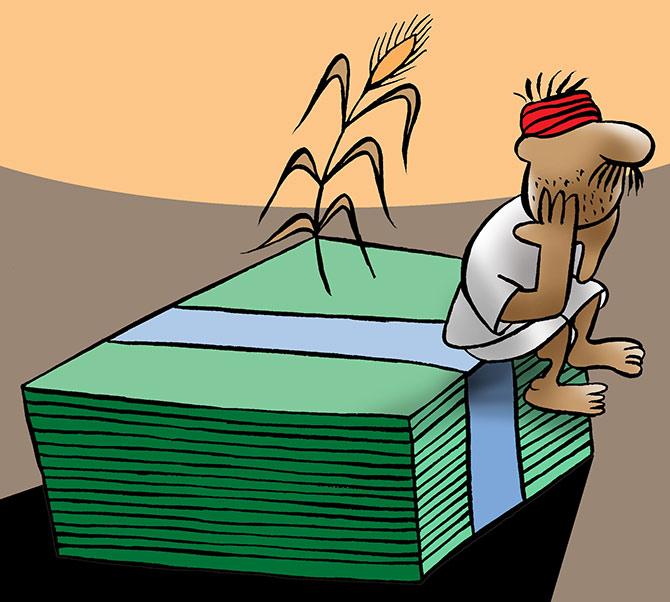 Is the Madhya Pradesh government's much-discussed Bhavantar Bhugtan Yojana (Price Deficiency Payment Scheme) showing signs of stabilising?
Unlike in 2017, the open market wholesale rates this year for soybean and maize, two crops incorporated into the scheme, haven't so far seen a big decline from their current level, which is below the centrally-set Minimum Support Price (MSP).
The BBY was implemented last year, when there were allegations of traders cornering it for own benefit.
In the state's major wholesale markets (mandis), where BBY has been on since October 20, the rate for soybean has been Rs 2,900-3,100 a quintal (qtl).
This is almost 10 per cent less than the MSP of Rs 3,399 a qtl for the 2018-19 kharif season but there are no signs of a meltdown from these low levels.
What one should note, though, is that unlike in 2017, the BBY of 2018 isn't a price deficit financing scheme in the strictest sense.
Last year, the state reimbursed the difference between the modal rates and MSP to farmers, up to a limit.
Modal rates are the average price at nearby mandis.
This year, however, even before the BBY window was opened, the state had fixed its payout at up to Rs 500 a qtl to growers of soybean and maize, irrespective of the actual difference between modal rate and MSP.
This is also in line with the Centre's latest guidelines (under PM-ASHAA, approved last month).
These say payout under any Price Deficiency Payment Scheme (PDPS) shouldn't exceed 25 per cent of the MSP value of the crop for which has been started.
So, in the case of soybean, payout to farmers under Bhavantar should not exceed Rs 850 a qtl.
The MP government, as noted, has decided to not pay more than Rs 500 a qtl for soybean under Bhavantar.
"This obviously isn't Bhavantar or a PDPS in the strict sense, as there is no actual shortfall calculation and a fixed payment is being made.
"In any case, Bhavantar is a difficult scheme to implement in its truest form, as there is a problem in maintaining record and registers," says Siraj Hussain, former agriculture secretary of the Central government.
Among the crops that are to be directly procured from farmers under MSP are the kharif crops of urad (black gram) and moong (green gram).
Though procurement was to start from October 20 and continue till January 19, farmers say much hasn't been purchased in these crops.
"Not a single grain, while prices are crashing," Kedar Sirohi, working president of the MP Khet Mazdoor Congress, told Business Standard.
The MP government, with the Centre's Nafed, has plans to procure 345,000 tonnes of urad this year from farmers, along with 31,000 tonnes of moong.
And, says it also plans to benefit around 60 per cent of the state's 4.5 million oilseed and pulses farmers in kharif 2018 through a combination of BBY and direct procurement through Nafed.
In urad, wholesale rates have been Rs 3,800-4,100 a qtl in major state markets, 40 per cent less than the MSP of Rs 5,600 a qtl.
Moong is selling at 60-70 per cent less than the MSP. There has been no large-scale procurement.
In maize, the open market price in MP is 18-30 per cent below the MSP, while the Bhavantar payout is capped at Rs 425 a qtl.