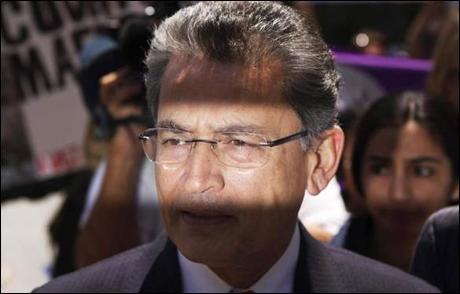 India-born former Goldman Sachs director Rajat Gupta has accepted his two-year imprisonment on insider trading charges as his "destiny" and spending a low- profile life at a Massachusetts prison where he occasionally runs into his friend and hedge fund founder Raj Rajaratnam.
Gupta, 66, currently serving two years at the Federal Medical Center Devens in northwest of Boston on insider trading charges, washed tables at the facility, played handball and racquetball and bridge, according to an account in the New York Times.
Gupta and Rajaratnam are under the same roof at the prison with 1,000 other inmates.
Gupta occasionally runs into his one time friend-turned foe Rajaratnam, also serving an 11-year prison term on insider trading charges in the same facility, the report said.
The report quoted a former inmate David E Morgan, who served about a year and half on charges related to insurance fraud, as saying that he had met Gupta and Rajaratnam at Devens.
"The two lead parallel lives that sometimes intersect. They occasionally run into each other in the common areas at Devens and exchange pleasantries. Although both men are in prison for the same crime, their friendship is irrevocably broken," the report said.
Initially, Gupta was rumoured to be a "snitch", Morgan said but he quickly won over inmates.
"People would ask him about trading stocks," Morgan said in the report, and Gupta would reply: "I don't know anything about stocks." Often, before their release, inmates would seek Gupta's advice on business plans and one even asked him to invest.
According to Morgan, Gupta replies: "I am out of business." Gupta, who arrived in June 2014 to begin his prison term, was assigned to Devens minimum security camp, which houses 135 inmates. But in April, he was sent for six weeks to the Special Housing Unit, or SHU as punishment, the report said.
"His infraction was having an unauthorised item: an extra pillow," it added. The report said inmates often grabbed pillows of departing prisoners and Gupta had hoped an extra pillow would help with a bad back.
It was the second time that Gupta was sent to 'the hole', as the SHU is sometimes called. Last summer, Gupta was dispatched to the unit for sitting during the inmate count. "He was actually tying his shoe," Morgan was quoted a saying in the NYT report. Gupta seemed to have accepted his imprisonment, telling Morgan it was his "destiny".
Before Gupta's transfer to the main compound of the the centre, he had reported daily at 5:30 am to the cafeteria, where he washed tables. His schedule included dinner at 4 pm, after which Gupta and Morgan walked and talked. "Those conversations were priceless," Morgan said.
While in the summers, the two men split a pint of ice cream from the commissary, in the winter, Gupta started writing a book, Morgan said.