Despite difficult working conditions, Indians are still seeking jobs in Gulf countries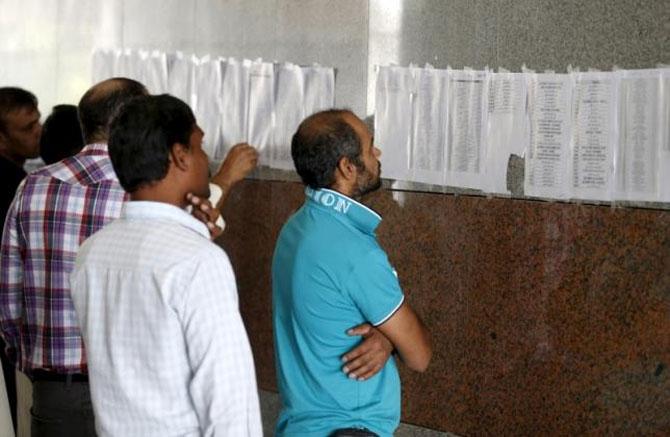 Remittances from the Gulf countries have been falling for the past three years, owing to difficult work conditions and low oil prices. This, however, has not deterred thousands of Indians from seeking jobs in these "rich counties".
Amit Kumar, 34-year-old engineer who worked with L&T for three years in Kolkata, is one of them. He is anxiously waiting at the large reception area of RK International, one of the registered agents with the government of India, on the sixth floor of a non-descript tower in central Delhi. Kumar wades through a knot of candidates, comprising mainly of drivers, crane operators and fitters, to reach the receptionist, who already has too many applications on her desk. Every day, she deals with at least 80-100 Gulf job visa aspirants.
"I am going to Dubai purely for economic reasons," Kumar says. He has secured a $4,500-a-month job through the agency and his employer has promised him free accommodation, food and transport. Kumar had worked in Dubai four years ago and is aware of the challenges that migrant workers face there. During interview, he chose Dubai and Abu Dhabi as preferred locations.
But for first timers like Harkesh Baitha, a resident of Gopalganj in Madhya Pradesh, going to Gulf countries is no less than an adventure. Baitha heard about the job prospects from two men in his village who recently returned, following the completion of their respective contracts.
"I didn't think about the country where I would be working, I just approached the consultants for a job," says Baitha, who secured a job of rigger in Abu Dhabi for AED 1,200 a month. He had to pay Rs 50,000 to the consultant for this.
When asked if he was aware of the growing work difficulties and the rise in complaints by the Indian migrant workers against their employers in Gulf countries, Baitha said he was willing to take a chance.
According to the latest figures of December 2015, around 7,500 Indians have reported complaints, including exploitation and torture, against their employers in Gulf countries.
The highest number of complaints was from Kuwait (3,236), followed by Saudi Arabia (2,472) and Bahrain (806). Indian missions in Oman, Qatar and UAE received 413, 378 and 126 complaints respectively. At the same time, about 5,900 Indian workers lost their lives in the Gulf countries last year with maximum deaths reported from Saudi Arabia (2,691) and UAE (1,540).

Wakeel Ansari, president of Delhi's association of recruiting agents, says such complaints have barely impacted their businesses.
"The number of complaints is not even one per cent of the 7.3 million Indians residing in the Gulf. There may be some genuine cases of harassment or exploitation but this can happen in any country," says Ansari, adding even those residing in the Gulf don't want to return. "Once they get used to luxury and comfortable life, they find it difficult to adjust in India," Ansari says.
The recruiting agents say though their businesses were doing well, they were experiencing a slight slump in demand for Indian workers on account of a global slowdown, crash in oil prices and the Indian government's attempt to fix minimum wages for Indian workers going abroad. The agents claim the Gulf employers prefer Bangladeshi and Nepalese workers over Indians because of low wages.
This slight slump has begun to show in remittances and number of people traveling to Gulf. For instance, the collective remittance from UAE, Kuwait, Saudi Arabia, Oman and Qatar was $35,494 million in 2013, but decreased to $35,419 million in 2014. In 2015, according to World Bank, remittance further slipped to $34,670 million.
The Directorate General of Civil Aviation (DGCA) data for air travelers shows another trend. While the number of people who made to and fro visit between India and Gulf countries remained almost the same throughout the year, Saudi Arabia emerged as an exception.
Saudi Arabia, which has the highest number of Indian migrants and is also India's number one crude oil supplier, saw a continued decline of travelers coming from India. While in Jan-March (2015) around 434,124 Indians visited Saudi, the number fell to 401,034 in April-May (2015). The next two quarters saw a further decline to 370,282 and 378,881 respectively. This fall is largely attributed to fall in oil prices and job cuts.
According to a survey by GulfTalent, an online recruitment portal in the Middle East, about 14 per cent private companies are planning to cut jobs in Saudi Arabia in 2016. Oman, UAE and Qatar follow with ten per cent, nine per cent and eight per cent job cuts respectively.
The recent announcement of Saudi Arabia to implement the second phase of the Nitaqat law, which allows the government to reserve jobs for the native Saudis, is likely to pose more challenges for job seekers from India. The migrants are already worried about the talks of Gulf countries levying tax on personal income.
The job situation is unlikely to improve in the near future. According to Moody's Investors Service, the impact of the oil price shock would be more this time than 1986 and 1998 when the remittances had rebounded within a year or two. In 2009, though the prices rebounded after an oil price shock, the remittances didn't "resume the upward trajectory as earlier".
"If crude stabilises around $50 per barrel, remittance from workers in Middle East may also stabilise. However, most of the oil producing countries in the region are encouraging increasing participation of natives in the workforce, to prepare for oil prices to remain at these levels for long term," said Debasish Mishra, partner at Deloitte Touché Tohmatsu India LLP.
Photograph: Faisal Al Nasser/Reuters