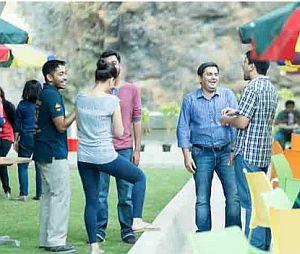 Rahul Yadav, chief executive officer of Housing.com, on Wednesday said he had allotted all his personal shares worth Rs 150-200 crore (Rs 1.5-Rs 2 billion) to the 2,251 employees of the company, setting off speculation that this would pave the way for his resignation.
Yadav had quit on April 30, after questioning the intellectual abilities of the company's investors in an email, only to later apologise and withdraw his resignation on May 5.
Yadav said, "I'm just 26 and it's too early in life to get serious about money, etc." Locon Solutions owns Housing.com.
A source close to the development said Yadav had neither discussed the shares' giveaway with the board of directors nor intimated the investors about it. "Rahul has done this only to secure his exit from the company.
If you really want to motivate employees, you do not give away your entire share," said the source who did not wish to be identified.
The source added during the board meeting on May 5, it was decided the founder members and investors would give away a share of their stakes to create an employee stock ownership plan.
"Nothing, however, was firmed up on this front," the source said.
Explaining his move, Yadav said, "Housing was started because of two reasons: The house-hunting problem remains unsolved globally.Just the problem statement gives me a lot of kick and in each country, there are four-five players doing the same poor job and are still not able to solve the problem."
Across the globe, there are about 500 real estate players.
"We want to unify all and create a global giant for real estate, so that the one company can afford much higher level of R&D and technological innovation to push the category forward," Yadav said. Housing.com was founded by 12 graduates of Indian Institute of Technology-Bombay.
Of these, three left the company sometime ago. While Yadav alone holds four per cent stake in the company, others have between eight and 10 per cent.
Housing.com employees would each get between 200 and 300 shares worth Rs 4-6 lakh. Investors have bet big on Housing.com, pumping in about $121 million in four rounds of funding so far.
Venture capitalists now hold nearly 70 per cent in the company, chief among them being Nexus Venture Partners, Helion Venture Partners, Falconedge and Haresh Chawla (former group chief executive of Network18 and Viacom18 Media) and Zishaan Hayath (co-founder of Chaupaati Bazaar, a phone commerce company).
In the next couple of quarters, Housing.com plans to increase listings to 10,000-12,000 a day from 5,000 now. It also aims to expand to 100-150 cities from 55 now.
Eyeing the top spot among property portals in the country, Housing.com bought Indian Real Estate Forum last month for about Rs 8 crore, to improve the availability and accessibility of independent information for buyers.
Users registered on Indian Real Estate Forum exchange information, experiences and views on real estate projects, builders and related issues.
Image is for representation purpose only
Photograph: Courtesy, Housing.com